Nitmiluk National Park, Australia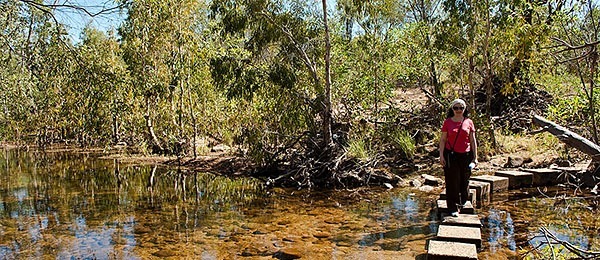 Within Australia's Northern Territory, Nitmiluk is a gigantic national park that's best known for being home to Katherine Gorge. Don't confuse the Gorge with Katherine, which refers to the town of the same name that's 30 km to the southwest.
But if you're an outdoors lover, as many Aussies are, do plan on spending a full day here, and consider camping or hiking overnight as well. Katherine Gorge actually contains 13 different gorges, all of which are effectively separated outside of rainy season, when water levels are low. Although that may mean any swimming or boating will require you to pick yourself out of the water to hike the short distance over to the next gorge, many say it's well worth each short little trek to do so.
Swimming is allowed in the waters when it's not rainy season (love the Australians and their straightforwardness: they just call the non-rainy period "the dry"). But considering there are crocodiles around all year, you may feel slightly more comfortable renting a canoe instead for floating through some gorges.
If you are there during a season when you can enjoy the Katherine River up close, you won't be able to miss the aboriginal art on the cliffs as you swim, float, or paddle through And about those gators: during dry season, have no concern, because they'll all be the harmless freshwater variety. However, there is no swimming permitted in the gorge river once the rainy season starts, bringing the larger and far more dangerous saltwater alligators. Besides the saltwater gators, dry season is in general the nicest time to visit the park, because you'll be spending so much time outdoors. However, it's also the time when gorge tours, the cruise, the helicopter flights, and other bookables tend to get busy and full, so consider making reservations ahead if any of those interest you.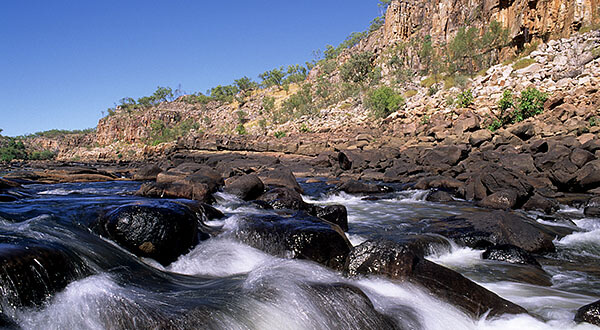 Take advantage of some of the many gorge walks; from Edith Falls, the upper pool is especially noteworthy, and there are many hiking trails in that area, including part of the well-known Jatbula Trail. If you've got even more dough in your pocket, you might wish to take a helicopter ride, which usually covers several gorges, or the dinner cruise, which gives you some private time on some of the gorge formations in the evening.
Speaking of the evening, if you don't mind sleeping in the outdoors, there are more than 100 km of hiking trails in the park, many of which are suitable for overnight hiking and have "bush walker" facilities (overnight camping areas where fires are not allowed and there isn't running water). Here again, the Jatbula Trail is included, though at 58 km in length, it alone will take you about five days to do.
Keep in mind that you'll have to book space on the Jatbula Trail in advance, because it is so popular; this can be done through the park's visitor information desk. As a national parks facility, 2 permanent overnight campgrounds are available. Electricity is available only at the Gorge campground, while the Edith Falls facility has none. Both campgrounds have running water and the showers are hot. If you'd like to eat out, the restaurant at the park is a hidden gem, far better than the level of fare you might be expecting.
Nitmiluk National Park location and hours
Advertisements:



Nitmiluk National Park
Top End, Northern Territory
The Park's main entrance is located 30 km northeast of Katherine via a sealed road. Katherine is located 310 km south of Darwin along the Stuart Highway.
Leliyn (Edith Falls) on the western side of the Park, is reached by turning off the Stuart Highway 42km north of Katherine then following a sealed road for a further 19km.
The most comfortable months to visit the Park are from May to September. The wet season causes flooding of the Katherine River and restrictions on some of the activities available. The access road may be cut off for short periods during peak flooding times.
Photos by Francesco and Chris Guy on flickr
You should follow me on twitter here.
Last updated by jack on 03 July, 2013 in Destinations.
Related articles:
Lake Bogoria National Park, Kenya
Six unique museums in Australia
Zion National Park, Utah

Comment on this article: