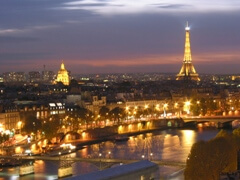 If you need some assistance with finding a perfect tour to the sights of Paris and surrounds, try isango! This specialist can help you work out an itinerary that'll cover exactly what you're interested in. It'll certainly help those of us who aren't very organized!
The tours and sights of Paris
Paris has hundreds of sights, from the world famous Eiffel Tower to esoteric niceties such as Cemetiere de Montmartre, final resting place of many of the world's most famous artists and thinkers. Chosing between what to see is quite difficult, unless you have unlimited time to do it all in. isango! can help you with tours in Paris, such as a Da Vinci Code tour or a walking tour taking in the Champs-Elysées. Of course, once on Champs-Elysées you might completely blow your careful travel budget by shopping in some of the luxury stores lining the avenue.
Museums and shows
If you're more of a museum enthusiast, try taking a tour of the Orsay or the Louvre, both fantastic museums that'll take you most of a day to explore properly.
Otherwise, if you're up for a show, isango! can help you book tickets to Moulin Rouge or maybe the more risque cancan performance at Lido or Crazy Horse.
History tours of Paris
Advertisements:



Maybe you're more interested in finding out about the rich history of Paris. A guided tour of the key venues for the French Revolution or the Second World War will be both educational and stoke your imagination. Paris is very much alive, and much of this due to events still felt in the city's fabric hundreds of years later.
Getting around in Paris
First of all, Paris is easiest to navigate via the Metro, as driving can be a bit hairy. However, it can be quite slow and if you're a family, not very convenient.
You should follow me on twitter here.