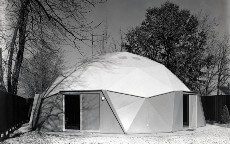 The R. Buckminster Dome Home, a geodesic design or 'autonomous dwelling unit' known informally as 'The Bucky Dome' can be found in Carbondale, Illinois in the American Midwest. In 2004, the Dome was listed as one of the 'Ten Most Endangered Places', a list formulated by Landmarks Illinois. It's already fragile state was compounded when a mighty tree fell on the Dome during a devastating tornado in May 2009.
One of Illinois' more quirky attractions, The Bucky Dome was built in 1960 by R. Buckminster Fuller (Bucky). Bucky lectured in design at Southern Illinois University between the years 1959 and 1972 and made the Dome his home during his time there. The idea behind the Dome was to create an environmentally friendly home design to suit all types of residents. Bucky was in fact convinced that the Dome was the home of the future. Whilst this legacy may not have come true, Bucky is still credited by many as being the forefather of the Green movement and the geodesic dome design, although uncommon as a viable design for a family home, can be seen in Epcot's Spaceship Earth attraction and more recently in London's O2 arena.
The Fuller Dome, a charitable organisation, is committed to the restoration of the dome with the intention of using it as an educational museum. The charity was awarded a 'Save America's Treasures' grant of $125,000 to assist in the restoration and preservation efforts. This figure has to be matched by the charity's own fundraising efforts, a target they hope to achieve by 2012.
The Bucky Dome address and hours
The Bucky Dome
407 S. Forest Ave.
Carbondale, IL
Advertisements:



From downtown Carbondale drive west on Main St./Hwy 13 for four blocks, then turn left onto S. Forest Ave. Drive south for almost three blocks. The Dome will be on the left, just north of the intersection of Cherry St.
You should follow me on twitter here.