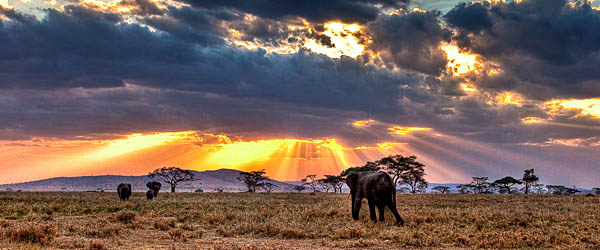 Who doesn't want to do something different and exciting for a vacation... no one that I know. So how about a trip to Africa? I am talking about Tanzania, the largest country in the eastern side of the African continent. Tanzania is bordered by Kenya and Uganda to the north and Rwanda to the south. The national language is English and Kiswahili. The climate is tropical but cool in the high mountainous regions. The state is composed of 26 regions. The economy is based on agriculture.
Tanzania is best known for its wildlife habitat which includes the Serengeti Plain. One of the best things to do in Tanzania is to go on a safari, which are readily available in the area. That is not the only thing to do or see though. If a safari isn't to your liking but you would like to see the wild life you can go to one of the many National Parks and watch the wildlife there.
Ruaha National Park is said to the best park if you want to see wild animals as opposed to the semi-tame ones in the northern parks. The Serengeti National Park offers 1 hour hot air balloon safaris that starts just before dawn and flies low over the plains as the sun comes up. After the balloon lands the guests are treated to a champagne breakfast with white linen tablecloths and crystal glasses in the middle of the African bush, as zebra and antelope graze nearby. Of course, there are plenty of traditional safaris in the Serengeti as well.
Tanzania is said to have the best beaches in the world. They are on the Indian Ocean and are unspoiled with stunning white sand and palm trees. Kayaking is also popular on the coastal water along with scuba diving. Head to Zanzibar to experience the beaches in Tanzania.
You can visit historical Slave Trade sites. This is interesting but can be a depressing trip.
Tanzania has two of the best Stone Age sites in the world... Isimilia Gorge and the earliest known examples of human art among the rock paintinsg. Some of which are believed to be 30,000 years old.
One of main attractions in Tanzania is Kilmanjaro, the highest mountain in Africa. Many mountaineers try to summit the 5895m (19,340 feet) mountain.
Pack your bags and head to Africa for an adventure of a lifetime.
Photo by Noel Feans on flickr
Tanzania travel articles
Nothing yet!
There aren't any articles written for this location yet. If you have a travel story, advice, or would like to write about a sight, venue, or event here, please get in touch via:
Towns and cities in Tanzania