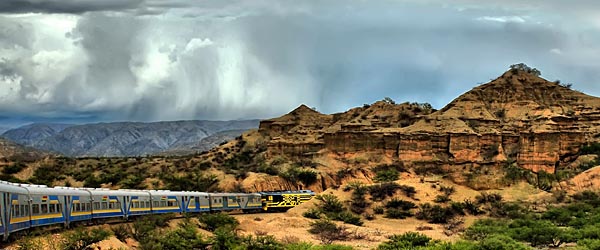 Bolivia may be classified as the poorest country in South America, but it is certainly one of the richest as far as history, mystery, and an abundance of exciting destinations and outstanding scenery. This country is one of the highest in South America, so tourists are first and foremost advised to take it easy for the first couple of days after arrival to avoid altitude sickness. For the history or archaeology buff, this beautiful land contains some of the most intriguing sites in the world, from Lake Titicaca where it is said the Inca Empire first began, to Tiwanaku, the site of an ancient city that was once the home of over 40,000 people, and today still contains the awe inspiring stonework remains of its once magnificent structures. Tourists should not miss a chance to visit the Salar de Uynui, the world's largest dried up salt lake that contains salt layers as thick as 33 feet.
Of course, the cities of Bolivia are also unique and exciting, from their colorful and enticing market places, to their churches, and interesting shops. Potosi, is not only the home of Bolivia's silver mines, and a popular destination, it is also the highest city in the world at 13,120 ft. This is another area that flatland tourists should approach gradually, making sure that they are well acclimated to the altitude. La Paz, the capital, is the highest capital city in the world at 11,800 ft. This is an exciting city, with a magnificent view of the surrounding mountain ranges, and a wide variety of shops, restaurants, and unusual markets, that sell everything from handcrafted items to love potions and talismans. This is truly a unique and exciting country that has a very long and rich history of mystery, tradition and art, and tourists will find that it is well worth the trip.
Photo by Tati@ on flickr
Bolivia travel articles
Nothing yet!
There aren't any articles written for this location yet. If you have a travel story, advice, or would like to write about a sight, venue, or event here, please get in touch via:
Towns and cities in Bolivia