Cooking up Japanese with KLM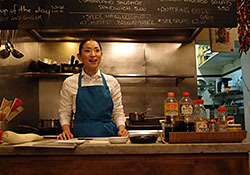 Atsuko's Kitchen is a Japanese cooking class teaching how to make various regional Japanese dishes. And a few days ago I had the pleasure of taking the class thanks to KLM UK. The airline is opening up another direct route from Amsterdam Schiphol to Fukuoka, on the Japanese island of Kyushu. Fukuoka is mainly a tourist destination for European ...
Eating your way around South East Asia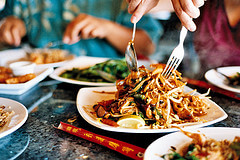 South East Asia has some of the best food in the world, with each individual country bringing you something different and unbelievably tasty. You don't even have to worry about eating too much, as the majority of the dishes are healthy and low in fat so you can stuff yourself with all manner of treats. From coriander and garlic, to red hot chilies and lemongrass - the unique way the...
A guide to the local food of Marrakech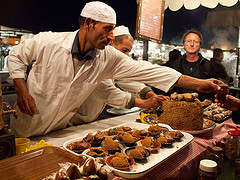 Refreshing mint tea, spicy tagines and hearty couscous might be the flavours that come to mind when you think of Morocco and Marrakech, however if you look past the dishes marketed to tourists, then there is a wealth of undiscovered cuisine in this fantastic city. There's so much more to taste in Marrakech, and if you're thinking about taking a holiday here, then getting to grips with the...
A quiver of South African fine wines

Old world competitors from the Bordeaux and Burgundy region have got their work cut out to hold on to the lionâ...
Read more »

The best New York pizza joints

New York City is famed for numerous delicious treats, such as deli sandwiches, bagels, and even dim sum. Nonetheles...
Read more »

Steak in the Australian West

Perth, in Western Australia, has quite a few things going for it: It's a wealthy city, modern, and it straddle...
Read more »

All the king's men

A tequila cocktail with a ginger flavor twist. With smoothness coming from the Averna, bite from the ginger beer an...
Read more »

Taste of Chicago Food Festival

The Taste of Chicago Food Festival started in 1980 and has grown to be the world's largest outdoor food festival ...
Read more »

Bon Appétit! – Romantic dining in Paris

As one of the top romantic destinations in the world, as well as one of the best known countries for it's cul...
Read more »

Two Boots Pizza restaurants, New York City

Two Boots Pizza restaurants is one of New York's best pizza parlors. There are many Two Boots located throughout t...
Read more »

Top 10 all-inclusive cruising cocktails

When there's no need to splash the cash, splash your glass instead. When the price has been rubbed off the d...
Read more »

Champagne, St. Pancras station, London

The Champagne Bar in London is not just another bar but an experience that every visitor to England's capital must ...
Read more »

Eating on the cheap in London

Visitors to London usually think of fish and chips, lackluster meals at Wetherspoons, or hot dogs with onions when ...
Read more »