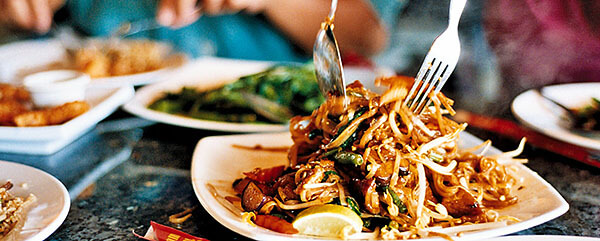 South East Asia has some of the best food in the world, with each individual country bringing you something different and unbelievably tasty. You don't even have to worry about eating too much, as the majority of the dishes are healthy and low in fat so you can stuff yourself with all manner of treats.
From coriander and garlic, to red hot chilies and lemongrass - the unique way the locals have developed their culinary skills will blow your mind and taste buds. As most produce is naturally organic and at its freshest in this region you'll be able to tell the difference from back home with every meal you eat.
Below is a list of top things to try when you are next travelling through South East Asia that will leave your senses simply begging for more and more.
Thailand
Thai food is massively popular in the west and it's even better (and cheaper!) in Thailand. Pad Thai is the national dish, which is noodles served with fresh bean sprouts, lime, chili, egg, grounded peanuts and shredded root vegetables. It's a very fresh, zingy meal and it is one favored by the thais themselves.
Along with the famous green and red curries, the masamam curry is a much milder version which is very popular here. The masamam might be a good one to try if it's your first time with Thai food, as the spice can take some getting used to.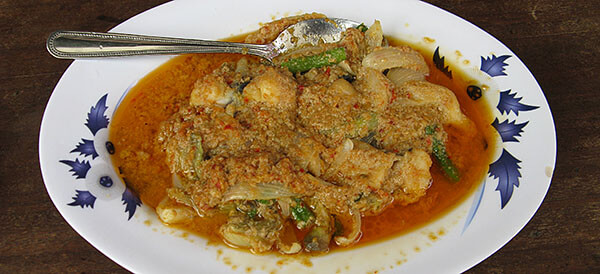 Cambodia
The amok curry served with boiled rice is a firm favorite in Cambodia. Not too spicy, the amok is a coconut milk based curry flavored with garlic, galangal and lemongrass which is cooked with such vegetables as carrot and potatoes. An egg is usually cooked on top as well, so it will definitely fill you up!
The seafood on Cambodia's coast is also a simply must have for anyone wanting to taste the best this country has to offer. Barracuda, red snapper and tuna steaks are served on the BBQ on most of the islands in the Gulf and will be some of the tastiest fish you have ever eaten!

Vietnam
Pho is the national dish of Vietnam and one if the most versatile in Asia. Pho (pronounced 'foe') is a noodle soup dish served with bamboo shots, water spinach and chicken or pork. It's versatile because you get a vast array of fresh herbs and chilies served with your meal each time, so you can alter the taste to however you like it. Mix up coriander, chili, Thai basil and garlic shoots to create your very own personal pho!
The fresh spring rolls in Vietnam are to die for as well and a great healthy alternative to the fried variety. Stuffed full of seasoned vegetables and meat, they make the perfect starter or midday snack.
Advertisements:



It would also be wise to take part in a few cooking classes whilst you are on your travels. As when you get back home, you can impress all your friends and family with all the different and delicious Asian dishes you can now prepare yourself. Plus it will save you craving all the lovely food you came to adore whilst you were on your travels, as believe me you will!
You should follow me on twitter here.