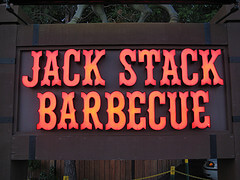 Americans often identify themselves by their barbecue preferences, and one of the most well-known styles of barbecue is Kansas City barbeque. The Jack Stack Barbeque Restaurant, Kansas City, MO exemplifies the superb and robust hickory flavor of Kansas City style barbecue better than any other! Why slouch into a shabby little barbeque joint when you can enjoy the ambience and class of this line of restaurants, featuring fireplaces and wine bars, adding elegance and a homey touch to your dining experience. The friendly staff will help you with everything you need during your meal, from getting you started to making sure your drinks are refilled and your food is good while you're eating.
But for all the fine features of our restaurants, the food is the real star of Jack Stack Barbecue restaurants. Start off with familiar appetizers like onion rings and wings, or enjoy a hearty meal-like app such as the burnt ends Kansas City is known for or a juicy crown prime rib. Lighter eaters will enjoy a variety of salads with or without meat and dressed with homemade dressings, and sandwich lovers will like the number of sandwiches on the menu, including chicken, prime rib, and a host of sandwiches with barbecue meat in delightful combinations. Lunch specials are perfect for diners on the go. But while all this sounds great, you probably came to Fiorella's Jack Stack Barbeque for the, well, barbeque, right?
You're in the right place for perfectly smoked, mouth-watering barbeque dressed with delectable sauces aimed to please delicate tongues and spice lovers alike. Choose from beef brisket, Polish sausage, turkey, ham and pork, all smoked on the premises fresh every day. Drench the meat of your choice with one of our four sauces, including a zippy sweet original sauce, a sauce with just the right amount of heat, a definitively hot sauce that will tingle your tastebuds with its bold flavor, and a zingy southwestern sauce made with fresh peppers and onions.
If you're in the mood for barbeque, the Jack Stack Barbeque Restaurant in Kansas City, MO is sure to please, and offers plenty of options for both barbeque lovers and those who want excellent non-barbeque fare.
The Jack Stack Barbeque Restaurant address and hours
Advertisements:



The Jack Stack Barbeque Restaurant
13441 Holmes Rd
Kansas City, MO 64145
Three more locations are availale, but this is the original and the best.
Open: Mon-Thu 11am-10pm, Fri-Sat 11am-10:30pm, Sunday 11am-9pm
Photo by TheJosephBoys on flickr
You should follow me on twitter here.