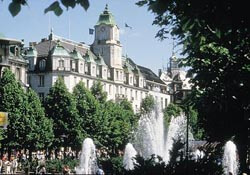 Learn some great tips for finding hotel deals that are much better than those advertised. You don't have to pay $400+ in New York, $300+ in London or Paris, just to find a decent room to rest your weary head. This collection of tips will point you in the direction of true hotel bargains, online or offline.
Online isn't always cheapest
Don't just depend on online deals, whether through the hotel itself or through a third party website. Online booking sites often "guarantee" the lowest online rates, but that's only online deals included and those are not all rates you can find. However, the online travel consolidators are the best place to start. Try these to find a rate to compare:
There are also auction web sites to try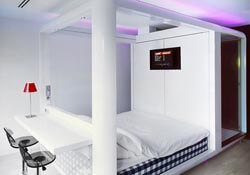 The two most commonly known, Priceline and Hotwire, are 'opaque' sites which means you don't know what hotel you're bidding on until after you've made your reservation. You'll get specifics such as it being a 4-star hotel, but the definition of a star rating differs between different countries.
In fact, there's a wide range of aggregators and comparison sites out there. Another one I've had good experiences with is www.booked.net, which has a huge range of properties mainly in Europe.
Sky Auction and Luxury Link (review) are also auction sites, but will let you see the exact hotel you're bidding for. It's better for peace of mind, but the prices also end up higher because of it.
Onto the tips for great hotel deals
You'll often find a better rate online than you'll ever get from a travel agent's shop. But online rates aren't always the best. In fact, calling a hotel on the phone will often give you the best rate. Get in touch with the manager on duty or the director of sales at your hotel and negotiate a better room rate
Beware of special deals advertised online. A 'third night free' offer can be more expensive than just booking three nights in the normal way. Also, a 'honeymoon package' could add a chunky wad of cash to your hotel rate and only score a bottle of champagne and some chocolates. Check on what's actually included in any special offer, and compare it with normal rates
Don't call the toll-free 800 (or equivalent) number! This number will use a centralized call center which can't provide as much flexibility on the rate as the hotel itself. Instead, call the hotel's direct phone number and ask for the manager on duty or the director of sales. These individuals both have the authority to give you a deep discount and will know whether poor weather is about to result in cancellations, or if a big group has booked most of the hotel.
If calling the hotel directly, don't ask for the reservations desk. You'll likely be connected right to the central reservation call center for the hotel chain as mentioned above.
The web is dumb. Yes, you're likely finding the lowest rate for the hotel, but the hotel booking web site won't know that the room faces the garbage containers or the busy elevated highway. To get the best rooms, talk to someone at the hotel directly. An important thing that most people don't know about is to find out what floors the booster pumps are on: Most high-rise hotels can't keep consistent water pressure - if you get a room on the same floor as the booster pump, you're pretty much ensured good water pressure.
If your stay is for a whole week, ask to see if you can get a weekend rate for the entire week. These are lowers, as business travelers won't be staying during weekend days.
Try to call at the last minute. Many hotels lower rates just before the date if they're not yet booked up. A crafty trick is to book a room at a cheap hotel chain that allows same day cancellations. Now, a day or two before your arrival, call your preferred hotel and ask for their lowest rate. If the deal is better, go ahead an cancel your first booking and enjoy your stay.
Call ahead. If you call around 4 pm on a Sunday, local time, the hotel revenue manager will be off duty. You'll be in a better position to negotiate a good rate as the hotel duty manager knows that an empty room is revenue that he'll never recoup by Monday morning.
Talk to the bellhop when you're getting to your room. Ask him if he likes the room as he's showing it to you. If the room isn't great, he may help you change the room at the front desk.
If the hotel is overbooked, ask the bellhop to show you a 'suite connector room.' This is the seating area portion of a suite that isn't always included with the suite booking. Or ask for a room that's been declared out of order, which often means something as benign as a stained carpet or broken TV set, which means it's not considered up to the hotel's normal standards and will sit empty. These will definitely get you a discounted rate as well.
Avoid extra charges and fees
Inquire about all fees. Many hotels make up for low base rates by charging high 'hidden' fees. Examples are for receiving a FedEx parcel, a mandatory tip to the bellman, fees for using the in room safe, amenity fees, mini bar restocking charges, baggage room fees, cancellation fees, early or late arrival or departure fees, and very high phone or internet charges.

Note: If you're not informed about these charges ahead of time, you can and should ask for them to be removed at the end of your stay. Read those forms when signing in.
When checking in, ask the front desk to bundle your internet and phone charges. Also ask them to package up any hotel gym charges or resort fees. This will likely end up cheaper than paying for these individually. Of course, you can also opt not to use these facilities.
Some hotel safety tips
Put safety first. Ask some pointed questions before booking your room. Find out whether:
Does the hotel require identification of all guests?
Is access to guest floors restricted to guests only?
Are there in room safes or a hotel safe?
It's also OK to ask the hotel about how many cases of burglary has taken place and whether they do a criminal background check on their employees.
Advertisements:



Hotel fires are a real risk. The fire safety laws differ between states and countries, and in some places they're surprisingly lax. Before booking, ask if the rooms and public areas are equipped with sprinklers and fire extinguishers. For more fire safety tips, read Hotel fire safety - your steps for surviving.
Share your tips for cheap hotel rates
If you've got any smart tips to share for getting cheaper hotel rates, please leave a comment below and help a fellow traveler out!
You should follow me on twitter here.