Australia is the only country that is a whole continent. World famous for its natural wonders and wide open spaces - beaches, deserts and the Outback. Australia is even so one of the world's most urbanised countries and well known for the cosmopolitan attractions of its major cities, such as Sydney, Melbourne, Brisbane, Perth, Adelaide, Hobart and the capital Canberra.
Australia is also a major tourist destination and is one of the world's wealthiest countries. The country is renowned for its vast, untouched landscape and unique culture and this Australia travel guide will help you make the most of your travel to Oz. Most visitors to Australia also visit New Zealand while on vacation.
Places to go in Australia
Queensland's Sunshine Coast
The Sunshine Coast is the destination to head for if you want sun, sand, and sea. This stretch of Queensland coastline is great for surfers and sun worshippers. It includes Caloundra, Noosa, Maroochydore and Mooloolaba. This is also your base for the Great Barrier Reef.
Great Barrier Reef
The Great Barrier Reef is a coral formation, the largest in the entire world. It's located off the Pacific coast of Queensland. It is home to a spectacular array of marine life and offers awesome diving opportunities. You'll get here by flying to Cairns and taking a boat or short hop flight to the islands of the reef.
The Outback
Australia's red centre. There are two very important facts to keep in mind about the Outback: it has very few inhabitants and very little water. You should follow standard safety precautions for desolate regions:
tell someone where you're going and when and where you should arrive; they should have instructions to raise the alarm if you do not appear soon after your intended arrival time
carry immense amounts of water
travel in a sturdy vehicle
have clothes that can protect against cold, as well as clothes suitable for extremely hot weather
Keep in mind also that the Outback is very large, much larger than desert regions in most other Western countries. You could easily end up twenty hours' drive away from emergency help.
Uluru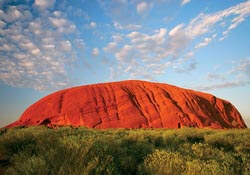 Uluru, also known as Ayers Rock, located in the Uluru-Kata Tjuta National Park, a gigantic wind-swept rock. The easiest way to get to the Uluru is to drive, catch a bus or join a tour from Alice Springs.
You can also fly from most capital cities to Connellan Airport, which is located just outside the park. Contact your travel agent for more details. Car hire is available from the airport and is best arranged through your travel agent before arrival.
Another option is the Ghan Train from Adelaide to Darwin via Alice Springs. The nearly 3,000 km train ride does take a few days though.
Tasmania
Tasmania was once known as the Apple Isle and, is the smallest of Australia's states. It is located off the south eastern tip of the mainland. We recommend the Launceston to Hobart highway for a great coastal drive. To get to Tasmania, either take an internal flight to Hobart or the ferry from Melbourne to Devonport, Tasmania, with Spirit of Tasmania.
Australia's major cities
Melbourne - Australia's second largest city and the nation's first capital city. Melbourne is a huge sporting and cultural capital. Melbourne is Australia's most European city
Canberra - the purpose-built, planned national capital of Australia
Adelaide - the City of Churches, a relaxed South Australian alternative to the big eastern cities
Brisbane - sun-drenched capital of Queensland, fastest growing city in Australia (and the Southern Hemisphere) and gateway to beautiful sandy beaches
Gold Coast - a large, beach city south of Brisbane. Known for its beaches, high rise apartments and its amusement parks
Cairns - gateway to the Great Barrier Reef, Port Douglas, the Atherton Tablelands, Daintree National Park, and many beautiful beaches and resorts. A great place for people to getaway to and relax
Darwin - Australia's smallest and northern-most capital, at the top of the Northern Territory
Hobart - small and quiet capital of Tasmania
Perth - the most remote continental capital city on earth, on the south-western edge of Western Australia
Sydney - Australia's first and largest city, the capital of New South Wales
Australia travel articles
If you're trekking through Australia, do watch out for the often venomous wildlife, especially these critters...
Interested in spending a while in Australia? A working visa is a great way to do that.
Road tripping through Oz is a popular undertaking. It's a big country, so planning goes a long way.
Looking to travel in Australia now that you're retired? Here are some good options.
The history and culture of Australia throws up some surprises at these six fascinating museums.
Founded almost twenty years ago by Ken West and Vivian Lees, the Big Day Out music festival in Australia has become one of the world's most well- known and popular annual music events
The Ghan is one of the premier ways to see Australia's outback in relaxing style.
Australia is a beautiful country with many exciting destinations to explore and here are the top 5.
If you're planning a great Australian roadtrip with your friends, you should consider a bus hire to get around in
Practical information about Australia
Visas to Australia
It's worth nothing that all foreigners except citizens of New Zealand require visas to visit Australia. The citizens of some countries can obtain an Electronic Travel Authority (ETA), which is a tourist or business visa valid for up to three month stays. These are often also available through travel agents at the time of booking your flight to Australia - apply for the ETA through your agent if possible, as the fee for applying directly is most often waived. Citizens of New Zealand may remain in Australia indefinitely without restrictions regardless of reason.
Australian national holidays
January 1: New Years' Day
January 26: Australia Day, marking the anniversary of the First Fleet's landing in Sydney Cove in 1788.
Easter weekend ("Good Friday", "Easter Saturday", "Easter Sunday" and "Easter Monday"): a four day long weekend in March or April set according to the Western Christian dates.
April 25: ANZAC Day, honouring military veterans
Second Monday in June: Queen's birthday holiday (not celebrated in Western Australia, which observes Foundation Day a week earlier)
December 25: Christmas Day
December 26: Boxing Day
Facts and map
Australia is the world's smallest continent but sixth-largest country; it's slightly smaller than the 48 contiguous United States. The highly urbanised population is heavily concentrated along the eastern and south-eastern coasts. Australia is bordered on the northwest, west, and southwest by the Indian Ocean, and on the east by the South Pacific Ocean. The Tasman Sea lies to the southeast, while the Great Barrier Reef lies to the northeast. Papua New Guinea, East Timor and Indonesia are Australia's northern neighbors, separated from Australia by the Arafura Sea and the Timor Sea.
Getting there and around
There's not much option besides flying to Australia. This is a trying 24-hour flight from London, and 18 hours or more from North America. To find a cheap airfare, check with our list of air ticket consolidators and our tips on finding a cheap flight. Sydney is the busiest international destination but significant numbers of travelers also arrive first in Australia in Melbourne (Tullamarine Airport), Brisbane and Perth.
You'll also be flying if you want to visit other destinations in Australia, as driving distances are enormous. This wouldn't be a useful Australia travel guide unless that simple fact was made very clear. For example, Melbourne to Sydney will take about 10 hours to cover 560 miles of highway. That's one of the shorter drives too.
A nation-wide (except Tasmania) interstate bus service is provided by Greyhound Australia. There are a number of other interstate and state-wide bus services as well.
States in Australia
Weather in Australia
Australia is mostly arid and semi-arid: the center is desert and much agricultural land is poor quality by the standards of continents with richer soil. The south east is temperate and the north tropical. Australia was massively deforested for agricultural purposes and forest areas survive only in extensive national parks and some other areas. Australia is prone to severe drought and water restrictions are currently in place in some areas, however these shouldn't affect travellers as they mostly relate to watering gardens and washing cars.
A common perception of Australia is that it is always hot and sunny: Wrong!
Both Sydney and Melbourne can experience days or even weeks of almost continual rainfall, while Western Tasmania has a climate that closely resembles that of England, although Tasmania's capital, Hobart, is the second driest Australian capital. In addition, temperatures can easily drop below freezing point in winter.