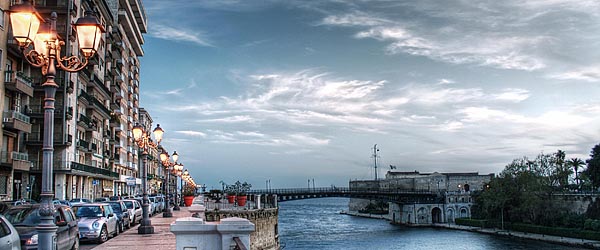 Here's one very good reason why Italy should be on your list of places to go before you leave earth: Italy is home to over 3,000 historic and heritage sites scattered all over the region. According to UNESCO, Italy has half of the world's archaeological sites and more museums than any region or country on earth.
Italy is also the birth place of some of the most famous minds and thinkers who have  revolutionized the world from Lorenzo de' Medici, Michelangelo Buonarotti, Leonardo da Vinci, Filippo Brunelleschi, Sandro Botticelli and many others from the beginning of the Renaissance. So if there's one place you have to go and explore, it's Italy.
The north of Italy lies two of its richest cities: Turin and Milan, and to the south, you have the 'undiscovered' Italy in regions such as Lombardy and Liguria. These places are often most visited by tourists looking for beautiful coastlines and scenic views as well as Italy's dramatic mountain scenery and some of the world's most popular ski resorts, bordering the tallest of the Alps. In between, you have the more frequented regions of Tuscany, Umbria, and Lazio (where Rome is located).
It's hard to explore the whole of Italy in just a few days. So if your trip is a short one, there are some must visit places that should be on your list. Carnivale is one such event worth seeing. This is a 10 day event in Venice leading up to Lent where it is an endless parade of authentic costumes and themed feasts. For the curious traveler, Carnivale is a beautiful reminder of Italy's Roman past.
For a taste of ancient architecture, Italy is always a great choice, especially in Pompeii and Herculaneum, two of the best preserved Roman sites in the country. Experience the sights, sounds and smells these ancient cities have to offer and then head to Museo Archeologico Nazionale in Naples where you can find relics and erotic frescoes from these cities.
From then on, your next stop should be Basilica di San Francesco in Assisi. This is the burial place of St Francis and one of Italy's greatest church buildings. You will also find that the Basilica is fully covered with frescoes by Giotto, Simone Martini and others, showing artistic development of each century. The Basilica is opened daily from 6.30 am to 7.30am so pilgrims and art lovers can cover this place in good time.
If you are going to Italy in the winter, the Alps and Dolomites or the Abruzzo and Aspromite is where you should go for a little bit of skiing in the Italian alps. From the North to the south, Italy never runs dry of decent ski resorts and terrains. If you are in Naples, never leave the town without sampling some of the world's best pizzas. Although you can eat pizza in every region in Italy, Naples has the best, served sizzling hot from a wood-fired oven.
End your sight seeing with a quiet night at Capri as when the sun sets, Capri is one place that has the most beautiful and scenic horizons and cliffs for the perfect home cooked dinner and a nice cup of latte.
The best way to get to Italy is by air and before you leave, it is best to contact the Italian State Tourist Office to get a hold of a selection of maps and brochures that list some of the best sites in Italy, how to get there, their opening times and a variety of other information.
Photo by Paolo Màrgari on flickr
Italy travel articles
Ivrea is a small city near Turin in Italy. Every year during their Carnevale they have a unique festival that involves throwing oranges at other people. While it may sound like a zany way to get your orange juice there is a historical reason for the citrus mayhem.
Ryanair will continue flying domestic Italian flights after a better agreement with ENAC has been made.
New, and lax, ID requirements force Ryanair to cancel flights on security grounds.
The south-facing Italian Alps is one of the premier ski areas outside of the Rocky Mountains. You'll find that the resorts all have abundant snow, plenty of sunshine, and that sophisticated European flavor to the after-ski
Italy has become one of the most expensive destinations in Europe. Here are my tips for travelling cheaply in today's Italy
The part of the Italian coast better known as the Amalfi Coast stretches from south of the Sorrento peninsula, all the way from Punta Campanella to Positano up to Ravello and Vietri Sul Mare
The Italian highway authorities have installed cameras and sensors on major roads that clock your average driving speed, read your license plate, and automatically give you a hefty fine via computer. Tourists driving in Italy should be aware that Italian road fines can really drive up the cost of a vacation there.
Practical information about Italy
Etiquette in Italy
Italians are gregarious and likely to strike up conversations with strangers, so feel free to as people for help and advice!
Learn the basic polite words in Italian, and this will be appreciated:
buongiorno (good morning)
buonasera (good afternoon/evening)
grazie (thank you)
ciao (goodbye)
When entering shops, be aware that it is not common in Italy to browse the inventory. Shopkeepers are getting used to it, so you will at tiems see signs that say 'ingresso libero,' which indicates browsing is ok.
Please be aware that some churches will ask women to wear scarves over bare shoulders to enter, so please back and bring one with you.
Dining etiquette
Don't roll pasta on your spoon – do it on the sides of your plate
Burping is considered extremely vulgar
Keep both hands above the table while you're eating, but keep the elbows off
General etiquette
Italians are chic. Dress elegantly but conservatively
Try not to yawn or remove your shoes in public
Italians are generous; they'll forgive most faux pas except arrogance and rudeness
Tipping is very rare outside of tourist areas heavily frequented by Americans, however, great service is to be rewarded with a few coins
Visas
Passports are required when entering or leaving the European Union. Visas are not required for US citizens for visits of less than 90 days. For longer visits, contact the nearest Italian embassy.
Visa information
Embassy of Italy
For local consulates, look under Consulate Network on the Website.
American Offices
Provides consular assistance to U.S. citizens
United States Embassy
via Vittorio Veneto, 119/A
00187 Roma, Italy
Phone: +39 (0)6 4674 1
Money and costs
Italy uses the Euro, along with the rest of the core countries of the European Union. The main benefit as a visitor is that you won't have to change currencies more than once, even if you're to visit several European countries, France, Spain, and Germany among them.
Health and safety
Italy is generally quite safe to visit and violent crime is very rare. Major cities do have a problem with pickpockets though, especially near tourist attractions and transport hubs.
Bring your common sense and avoid being alone in dark areas, wear any small bags in front of your body if you can, and if something feels dodgy, get yourself somewhere safe.
Emergency phone numbers
12 - Telephone Directory Assistance Number
112 - Carabinieri
113 - Emergency Police Help Number (also ambulance and fire)
115 - Fire Department
116 - A.C.I. (Italian Automobile Club) road assistance.
118 - Medical Emergencies
Facts and map
Italy basics
Electricity
Italy uses 220v electricity in common with most of Europe. Your electronic gadgets mostly will work on both 110v and 220v, but you may need converters for your plugs. For electrical appliances not using a power pack, ensure it can handle 220v, or it'll burn out very fast and can cause a fire!
Business hours
Most shops in Italy are open from 9am to 1pm and from 3:30pm to 7:30pm, Tuesday through Saturday, and only 3:30 to 7:30pm on Mondays.
Markets are open in the mornings only, and bakeries open at 8am on most days.
Department stores and supermarkets keep longer hours, and are often open during lunch as well.
In July and August, many stores will be completely shut as the Italians are on vacation.
Getting there and around
Getting there
Main entry points
Airports
Land crossings
Bus
Cars and motorcycles
Trains
By sea
Immigration and customs clearance
Prepare to be fingerprinted
Customs limits for goods
Getting around
By Plane
By Train
By Bus
By Car
Within major cities, cars are unnecessary, and will mostly get in the way. Cities such as Rome and Florence have excellent public transportation, and of course, visitors to Venice won't be able to bring a car into the city. Also, parking will be both difficult and expensive in most urban areas.
If you're spending time outside of the cities, such as rural Tuscany or Puglia, a rental car will come in highly useful to get around. While there are both buses, and an excellent train system, there are many great places you'll have some difficulty in reaching without driving.
Standard speed limits in Italy are:
Toll roads: 130 km/hour (80 mph)
Two lane roads: 110 km/hour (68 mph)
Main roads: 90 km/hour (56 mph)
City roads: 50 km/hour (31 mph)
Italian speeding fines are given out frequently, and they're high. Also be aware that radar traps are common, including average speed radar testing.
Don't drink and drive. Alcohol limits are low, and and you're likely to get arrested if caught.
Regions in Italy
Weather in Italy
Italy is overall a temperate climate, the mountains in the north and warm air from the Mediterranean keeps things comfortable almost year-round.
Summer time stays a comfortable 75°F, around 23°C. However, with varied geography and elevation, this is quite variable. The Dolomites and the Alps, the northern mountains, can be cool in the summer and freezing in the winter. In fact, both mountain ranges are home to some excellent Italian ski resorts.
Southern states like Puglia can become very hot, with temperatures going well above 90°F (32°C) in the summer. The scirocco winds from Africa helps make things hot.
Italy is a good destination for winter travel, with the southern regions, from Rome and southwards, mild and often sunny. The northern states can be much colder, and Venice can be bitingly cold during Carnevale.