Tuscany travel guide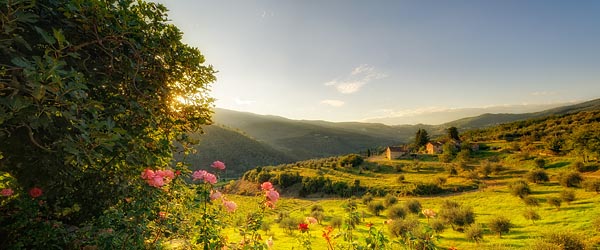 Tuscany Italy is one of the idyllic centers of the Italian Renaissance, producing masters of the arts, sciences, and architecture. In fact, UNESCO recently credited Tuscany with housing 10% of the world's cultural heritage, so a trip through Tuscany is sure to provide some magnificent artistic and cultural experiences. Home to two of the most well-known cities in Italy, Florence and Pisa, Tuscany has a lot to offer to its guests.
For anyone with even a vague interest in art and history (or a desire to say, "I've seen that!"), Florence has got to be a primary Tuscan destination. Its Uffizi museum is home to masterpieces known the world over. Visitors will be able to marvel at Michelangelo's statue of David, Botticelli's Birth of Venus, and da Vinci's Annuciation to name a few. Known as the 'cradle of the Renaissance,' Florence is a brilliant example of Renaissance architecture and design, and has a distinct look that is certain to make an impression on visitors. One of the best starting points for experiencing this is the Piazza della Signoria, which is in the heart of the Renaissance city, and features a grand fountain fed by a Roman aqueduct. As if all that wasn't enough, Florence is also renowned for fashion, and will certainly please even the most avid shopper. With all it has to offer, Florence is certainly a must see for any Tuscan tourist.
Pisa, of course, is known for its leaning tower. It is truly a wondrous site, which includes not only the tower (which is actually a bell tower), but also a cathedral and beautiful courtyard and grounds. Yet, there is more to see in Pisa (and most of it won't be quite so busy). Pisa is actually home to many churches and cathedrals, ranging in style from gothic to baroque to Renaissance, and many of them are worth a visit. Pisa's university also boasts an impressive botanical garden, the Orto Botanico di Pisa, that is a delightful reprieve from the crowds you are sure to encounter at the tower.
Other cities of interest include Arezzo, Prato, Sienna, Grosseto, Lucca, and the medieval San Gimignano. Each one of them offers equally fascinating and unique glimpses of Tuscan Italy, and they are well worth a visit if you have the time. And to really enjoy your stay in Tuscany, renting a Tuscany villa is a great, budget-conscious, choice.
Photo by Photo Solo Jam on flickr