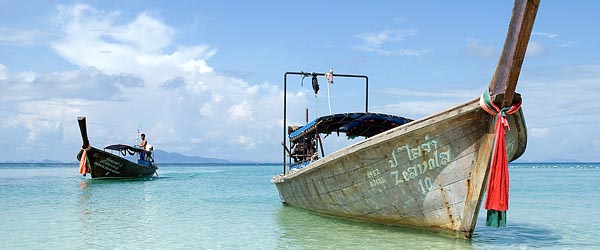 Thailand is a scenically diverse country with ancient traditions of tranquil temples and modern urban excitement. Thailand was known a Siam until 1939 and again between 1945-1946. It is the only country in Southeast Asia that was never colonized. In May 1946, an official proclamation changed the name of the country from Siam to modern day Thailand.
Visitors say that Thailand is "the west exotic country in Asia". It has a distinct culture with a varied and rich heritage. The scenic beauty is remarkable. No matter what your interest are you will find Thailand as a unique place with wonders unseen elsewhere. You will marvel at the sights that give the kingdom a definition with an independent history for many centuries.
Thailand has a population of 54 million people and they are mostly of Thai descent and the official language is Thai, spoken by 100 percent of the population. The main religion of the country is Buddhism but other religions do exist. Religion is a very important part of the Thai life.
Thailand is an extremely hot and humid country. The climate is tropical and they have just three seasons: cool in November to February, hot March to May and rainy June to October.
Most visitors to Thailand either arrive on the backpacking trail through Asia, and visit places such as Bangkok, Chiang Mai, Phuket or the other islands in the south. There is also a large packaged tourism trade, mostly focused on the southern islands with their amazing beaches.
A stop in Bangkok is a must. You will see resplendent temples, canal side markets and hip bars and clubs. You will enjoy a trip to the Bridge over the River Kwai in Kanchanaburi.
Visiting Thailand is an experience of a lifetime. Something to be remembered for years to come.
Photo by By Paulo Brandão on flickr
Thailand travel articles
Yes, you can do Thailand in a short 2 weeks if you plan ahead and go to these places
Taking a job teaching English in Thailand can help pay for travel and let you live locally.
To really get under the skin of Thailand, you do need to head off-piste a little bit. The popular tourist destinations of Bangkok, Phuket and the full moon beach parties have plenty to offer, but they don't exactly provide an authentic Thai taste.
Few countries in the world are as rich in culture and history as the nation of Thailand. A unique blend of Asian tradition and innovative technology make Thailand one of the most fascinating places that one can visit, and tourists are sure to be enthralled by the country's bustling dynamic.
Towns and cities in Thailand
Weather in Thailand
Northern Thailand has a typical monsoon climate, but since it lies well North of the equator (between 17 and 20 degrees North ), it does experience marked seasonal temperature variations.
The 'wet season' monsoon rains start in late May or early June and continue until October. Temperatures in the lowlands are around 32 degrees C in the mid-afternoon, falling to a minimum of around 23 degrees C at night. It rains on most days but rarely continuously. A typical day will dawn bright and sunny, clouds build up during the afternoon leading to heavy rain for an hour or two, frequently followed by a sunny evening. In August and September, typhoons sometimes occur ( although rarely severe ), with heavy rain, thunderstorms and high winds for three of four days.
In the 'cool season' from early November to February, humid tropical air from the Indian ocean gives way to cold, dry air originating in Central Asia to the North. The sun is still high enough to send temperatures above 28°C during the afternoon, but following sunset the temperature drops rapidly, frequently to below 10°C., so that early mornings are delightfully cool and misty. The sky is generally cloudless all day, and rain is very unlikely - perhaps one shower a month. From December, many of the trees lose their leaves as a protection against drought, and the lush greens of the countryside give way to sombre browns.
The 'hot season' is mercifully short - from mid March to late May. As the sun climbs higher in the sky, daytime temperatures approach 40 degrees C., and humidity increases, making any exertion difficult.
During this season the jungle is burnt off to prepare for next seasons planting, so the hills are very smoky and dusty. The start of the rains, ( usually a massive thunderstorm ) brings relief as the temperatures drop. Temperatures decrease and rainfall increases with altitude, so the 'wet season' is significantly wetter and cooler in the hills. In the 'cool season', temperatures below freezing at night are not uncommon above altitudes of 1500 meters.