Introduction to Bangkok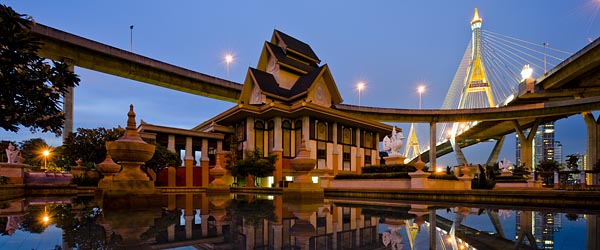 Bangkok is the capital of Thailand. Within its 16,000 square kilometers, you can find a wide variety of activities. It not only has many temples, palaces, and original canals, but you can find sophisticated shopping centers and naughty nightlife. Bangkok has many different areas so no matter what type of experience you are looking for, you will find it in this hectic, bustling city. With many different areas all connected by the two most popular mass transportation systems, the Skytrain (BTS) and underground, you can visit all of them.
The Siam district is the main center of shopping in Bangkok. Two of the most popular shopping centers are the MBK Center and Siam Paragon. From there, be sure to visit the Silom district. Silom means windmill in Thai. This area is Thailand's version of Wall Street. You can find banks, financial institutions, and offices here. There are also restaurants, hotels, and the famous nightlife of Patpong. Sukhumit Road is the longest road in Thailand. There are not many tourist attractions here but it has touches of "Thai-ness" all around. This area also holds some of the seedier, darker roads of Thailand such as the red-light district and Soi Cowboy. Be careful visiting these areas. One area of Bangkok made famous by the movie, "The Beach" is Khao San Road. It is known as the "center of the backpacking universe." One can find budget guest houses, hotels, internet cafes, tattoo shops, swanky bars, and much more. So this city offers something for every traveler.
Photo by MikeBehnken on flickr