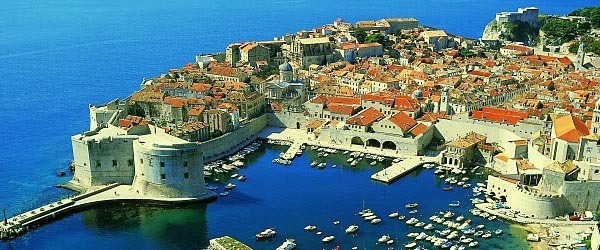 Waking up to the smell of fresh air and sound of seagulls reminding you of the nearby sea and a light touch of the warm sun caressing your skin is one of the reasons why Croatia is a spot that remains vivid in the minds of its travelers. Croatia is the Mediterranean land of rocky, indented shore and more than a thousand islands boasting stretches of coastline filled with evergreen vegetation and the most dramatic sunsets Europe has to offer.
Despite the region's ever popular spot as a tourist destination, there are still places in Croatia that reamin off the beaten track – islands with quiet coves, cliffs and rocks for exploration and quaint stone-built fishing villages that make you feel as if you have landed on one of southern Europe's few remaining untouched areas. Stepping into Croatia is like stepping in a museum of Mediterranean culture as the many coastal towns and cities are a living reminder of the region's historical roots from Roman times.  Where towns and cities dot the coastal lines, in the heart of the region is a profusion of unsullied mountains, lakes and bird-inhabited wetlands that provide the quintessential setting for nature lovers.  
This country has been making huge steps ever since early 1990s: From the rule of communism to a war of national pride and survival to the securing of independence, and Croatia is now a safe, optimistic and welcoming destination with a strong sense of nationality and statehood. Croatia is a Central European country sharing the Adriatic Sea with Italy, meaning that this small nation has one of the sunniest coastlines in Europe. With about 2,600 hours of sunlight each year and wonderful weather with warm dry summers and mild winters.
Bordering Slovenia in the west, with Hungary to the north, Serbia in the east, and Bosnia and Herzegovina in the south, the country's geographical shape has been likened to a croissant! Croatia has a population of about 4.4 million people with the majority being Roman Catholics.
Zagreb is the capital of Croatia, a dazzling place with a population of under 800,000 with other main cities such as Osijek in the northwest and the ever-popular Split on the Dalmatian Coast. The national language is Croatian which is a South Slavic language with roots traced back to the 9th century.
Croatia is also home to several important aspects of international culture such as Dalmatian dogs and the ever popular drink called Maraschino.
Croatia travel articles
Cascading waterfalls, bright blue waters teeming with fish and lush vegetation may seem like a description for a tropical island, however, Plitvice Lakes National Park in central Croatia holds all of these things and more.
If you're a music afficianado, what better way to combine the beauty of Croatia with your love of music than at the Soundwave Festival in Petrcane.
Practical information about Croatia
Food and drink
You get the standard fare as in many other central European or Mediterranean countries, that is, pizza, pasta, meat dishes, and fish. All food is safe to eat as restaurants are regularly inspected, and the tap water is safe. Along the Adriatic Coast, it would be a shame to miss out on the seafood specialties.
Croatian beers are of excellent quality. Try Zagreb's Ozujsko pivo or Karlovacko pivo. The Croatian word for beer "pivo", you'll get to know this well. Certain Dalmatian red wines, such as Faros or Dingac, are exquisite. You should also try Croatia's favourite brandy sljivovica, made from plums, or travarica, which is a herbal brandy.
Money
Kuna is the Croatian currency, and each Kuna is divided into 100 lipas. When printed as a price, the Kuna is abbreviated to Kn.
The Kuna comes in dominations of 5, 10, 20, 50, 100, 200, 500 and 1,000 as notes and 1, 2, 5, 25 as coins. The Lipa comes in coins of 1, 2, 5, 10, 20 and 50.
Other currencies
If you're arriving with Euros, you'll find that a number of establishments are happy to be paid with these
Exchanging money
You can easily exchange British Pounds, US Dollars, or Euros in almost any city. However, avoid changing money in hotels, as the exchange rates are universally awful.
Rather than exchanging money before arriving, or exchanging cash in Croatia, use your ATM card instead. Just remember to make sure you are using a 4-digit PIN (used in all of Europe) and that your bank has approved use in a foreign country, if you're travelling from America.
Visas
Most tourists don't require visas to visit Croatia. Those with passports issued by the United Kingdom, USA, the EU counties, New Zealand, and Australia DON'T need visas.
For all other countries, please check the Croatian Ministry of Foreign Affairs' webpage. Should you need a visa, contact the Croatian Embassy in your country for information on how to obtain a visa to Croatia.
Health
The hospitals and health system in Croatia service is of a high standard. There is a fee to see the doctor or for hospital treatments. However, some countries like the United Kingdom have bilateral health care agreements so that emergency treatment is free. Make sure to show your passport / identification and mention this.
As healthcare can be very expensive, ensure that you have good travel and health insurance whether you can get health care for free or not.
Safety
Croatia in general is a very safe country, and robberies and petty theft is only a minor problem. Being out at night is safe in most areas, and tourist areas especially. Pickpockets can always be an issue in tourist areas, so keep your wits about you.
Single women are likely to attract attention, wanted or not, so be prepared for being whistled and have men come on to you. Just say no and and walk on, you won't be bothered further.
If you experience any sort of more serious issues or harassment of any kind, approach a policeman or soldier for help. Croatian men are proud and protective of women, and both the army and police are well trained and disciplined.
Facts and map
Languages spoken
Most people in Croatia speak Croatian, but Italian and French are also common, as is English. If you have trouble communicating, approach a younger person as they universally speak some English and are as a rule happy to both practice speaking it and help you out.
The Croatian language uses the Latin alphabet with 30 characters.
Map and geography
Croatia country map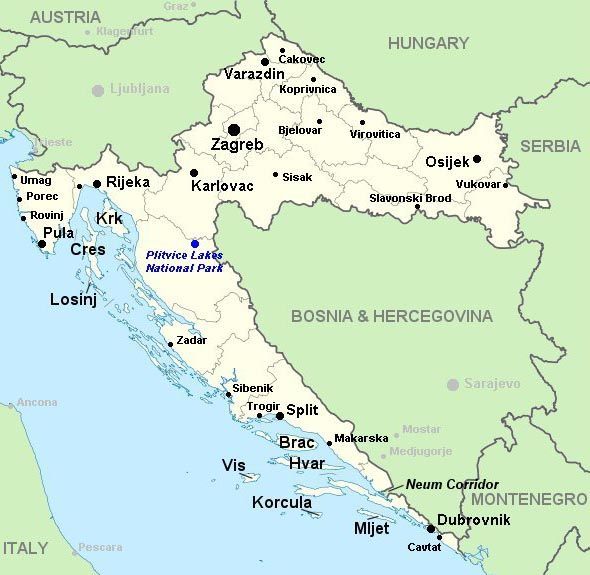 Electricity
Electricity is 220V, 50Hz.
Croatia uses the standard European 2 point plugs.
Time zone
Croatia is 1 hour ahead of GMT, the same time zone as the majority of Western Europe.
Getting there and around
Getting there
Airports
There are eight major airports in Croatia:
Zagreb
Split
Dubrovnik
Pula
Rijeka (on the island of Krk)
Zadar
Brac
Osijek
Visitors from Europe are very likely to arrive at any of these airports. If you're arriving from outside of Europe, you're most likely to arrive in Zagreb if you're using a legacy airline based outside of Europe.
There are a good number of budget airlines serving a number of these airports in Croatia, so from Europe there should be several options for cheap flights.
Land crossings
Most visitors to Croatia actually arrive by car, as many large European countries are within easy driving distance: Italy, Germany, Austria, Hungary, and the Czech Republic, and Slovakia.
If driving, you're likely to cross the border with either Slovenia or Hungary. Slovenia borders both Italy and Austria in turn, meaning most will pass through on their way from Northern Europe.
Going by train, you'll be arriving via mostly the same routes as when driving.
By sea
At the moment, there are only ferries to Croatia from Italy. However, there is service from several cities:
Ancona, Pescara, and Bari are all served by one of these ferry companies: Jadrolinija, Split Tours, and SNAV.
Getting around
By plane
The most expensive way to travel around in Croatia is usually flying, but by booking well in advance, some real bargains can be had.
There are regular services between Zagreb and other main airports by Croatia Airlines. These include Split, Pula, Zadar, and Dubrovnik. Summertime routes go to Brac and Osijek.
By train
Train tickets are relatively inexpensive compared to Western Europe. There are daily services between all the major cities in Croatia, and most smaller ones. There's a fast train between Zagreb and Split which takes 5 and 1/2 hours.
By bus
In every large town there's a bus station (in Croatian: Autobusna Stanica), where you can buy tickets and get time tables.
Bus services in Croatia are excellent and connect the smallest village with the rest of the country. For longer distances, there are very comfortable express buses. New highways criss-crossing the country means journey times are relatively short, and tickets are in the main inexpensive.
By car
Driving in Croatia is straightforward, and a raft of new highways have recently been built. Driving is on the right-hand side of the road and road signs are European standard.
If you want a beautiful driving experience, take the Adriatic road (Jadranska magistrala), between Dubrovnik and Rijeka.
By ferry
There are regular services between the Croatian islands and the mainland year round. During tourist season, there are more frequent sailings to the main destinations. The islands are also well connected between each other.
Regions in Croatia
Weather in Croatia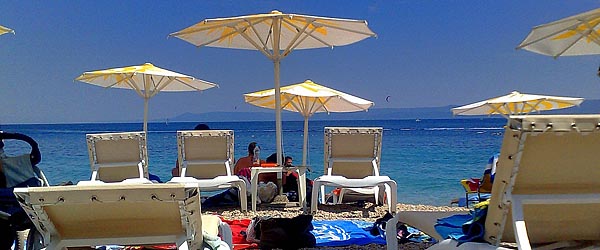 The climate throughout Croatia varies based on distance from the Adriatic Sea. Areas close to the coast predominantly experience a Mediterranean climate with warm summers and mild winters. The areas further inland predominantly experience a Continental climate with warm summer and cold winters.
The majority of the coastal region, including the city of Dubrovnik, is considered to be a year round destination. The warmest months of the year are July and August, during which time the daytime high temperatures will hover around the mid to lower 80s. During extremely hot days, the temperature may reach the lower 90s. Nighttime temperatures during these months will drop to the mid 60s. The coldest months of the year on average are January and February, during which time the daytime highs will be in the mid 50s, with nighttime temperatures dropping to the low 40s. The rainiest months of the year are generally November and December, with the summer months being fairly dry. Visit the Trip Advisor Dubrovnik Page for more information about this particular location.
The inland areas of Croatia, including the city of Zagreb, are most comfortable during the summer months. July and August are again the warmest months of the year, experiencing average daytime high temperatures in the upper 70s and lower 80s. The winter months are not only the wettest months of the year, but the nighttime temperatures will generally drop to below freezing.
Photo by zsoolt on flickr
Best time to visit Croatia
The most popular period to visit Croatia is from April to September. While the waters don't warm up enough to take a swim until June, the coast is warm and sunny from April, and prices are much lower. Zagreb, Split, and other towns are likely to be comfortable and dry too, making this a great time for a city break to Croatia.
Zagreb has a lot going on in April, with the FM Festival and the Zagreb Biennial of Contemporary Music, and more.
In May and June, outdoor sports take on a life on their own. The Germans and Italians won't arrive yet, so you'll have the hiking and biking trails mostly to yourself, and accommodation rates are still low. Watch our for school trips though, as they're common this time of year.
Tourism - and prices - pick up in July and August, and quite honestly the beach towns can be too crowded and costly for comfort. And the big cities just too hot. High season makes getting around the islands easier though, as more departures are put on at this time.
September begins to cool off a little, and the water is still warm, and the tourists thin out somewhat. Meaning that this may be the best time to go and visit Croatia. October can be chilly, and the coastal weather will be mild and the leaves turning beautifully. Room rates plummet this time of year, so it's a great budget choice if you're not too concerned with staying on the beach.