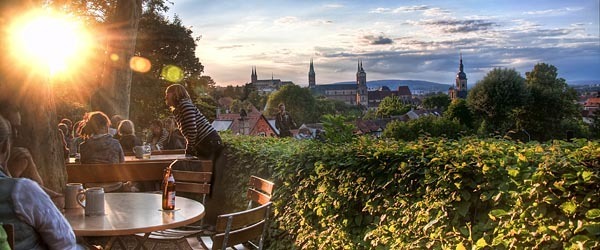 Germany is a rich and varied destination for any traveler. With such diverse options as fairy tale castles, quiet ski chalets, world class museums, bustling modern cities, and towns virtually unchanged since the Middle Ages, Germany will no doubt have something to offer any visitor. You can travel by car, train, boat, or bicycle, and stay in accommodations that range from dormitory type hostels to bed and breakfast inns to luxury hotel accommodations. Your own visit to Germany should be tailored around your own tastes, but there are certainly some worthy locations that deserve your consideration.
For an introduction to Germany, a cruise along the Rhine River might be a good choice. For centuries, the Rhine, which flows south to north through Germany, has defined both the landscape and the culture, and a cruise down its banks provides a brief but fascinating window into that history. Cruises range in length from several hours to a week, and peacefully bear you along the banks past lush vineyards and ancient castle fortresses. And as you experience the splendor of the Rhineland, you will surely come to understand the legend of the Lorelei, the mysterious sirens on the banks of the Rhine who enchanted sailors with their unmatched beauty.
If it's the storybook beauty of Germany that's drawing you in, southern Germany is the place for you. Bavaria, a southeastern German state, was once its own independent country, and boasts a rich cultural heritage in addition to its beautiful alpine scenes. Munich, Bavaria's capital, is the perfect central location for experiencing all Bavaria has to offer. Munich is home to a variety of museums, the Alt Stadt (or old city) where you can visit historic cathedrals, and the famed Hofbrauhaus brewery and beer garden. In late September, Munich also hosts the country's official Oktoberfest celebration and over a million people flock to the city to join in the revelry.
Yet the many day trips from Munich make the city even more appealing. One day trip you can't forgo is a trip to the Schloss Neuschwannstein. This is the fairy tale castle built by King Ludwig II only a little more than a century ago, and one you're probably already familiar with. The beautiful swan-white castle is one of the most recognized images from Germany, and the castle and its peaceful setting do not disappoint. Spend only a few hours or a whole day, you'll be rewarded with a memorable experience. Because Munich is near the alps, several ski villages are a convenient distance for visitors. One such village is Germisch-Partenkirchen, which was host to the 1936 Olympic Games. It is certainly a must for any winter sport enthusiast. From Munich, you can also visit Berchtesgaden, Hitler's "Eagles Nest" alpine lodge. Perched atop an alpine ridge in southernmost Germany, the site is equally appealing for its historical significance and its unmatched alpine vistas. Another day trip option from Munich is a visit to the Dachau concentration camp from the Nazi era. Tours of the camp provide visitors with a sobering look into one of the darkest chapters in human history, and while certainly not a pleasant tour, it is a worthwhile and important trip to make.
Another remarkable destination in Bavaria is the small village of Rothenberg ob der Tauber. Regarded as one of the most complete examples of a Medieval city, the walled city of Rothenberg is a destination unlike any other. A little too far to be a day trip from Munich, Rothenberg is certainly worth an overnight stay. While visiting, you can climb the city's towers, walk around its fortified wall, take a carriage ride, or, if you're daring, even visit the intriguing Medieval Torture Museum. This picturesque town is certain to transport you to another time, and is so inviting, you may not want to leave.
For those of you who are a little more excited by urban experiences, Germany has much to offer you as well. One of the premier European cities, Germany's capital Berlin is a brilliant example of a modern city. Because much of the city was destroyed during the Allied bombings of WWII, today's Berlin is marked by its contemporary architecture and design. A center of fashion and industry, Berlin offers unparalleled shopping and chic clubs and dining. This vast city built amid a network of waterways also provides cultural experiences like opera and ballet, and is home to impressive museums, like the five world-renowned museums of Museum Island. Also, because of its unique role during Germany's divided period and its present political significance, Berlin is home to several important historic destinations. Visitors can see the Brandenburg Gate and "Checkpoint Charlie" as well as remnants of the Berlin wall. For first-time visitors to Berlin, arranging a tour through the city might be a good introduction to an otherwise overwhelming metropolis.
Certainly any country with a wealth of culture as great as Germany's cannot be defined by so few of its cities. While Berlin, the Rhineland, and the Bavarian region all offer unique tastes of Germany, other distinctly German experiences can be had in Cologne, whose breathtaking Cathedral alone is worth a trip, and Heidelberg, a charming city home to an incredibly romantic hillside castle partly in ruins. The Schwartzwald (Black Forest) and Alsace regions also offer unique and rich experiences and are well worth a visit.
Your trip to Germany can be as brief or as thorough as you want it to be, but it is certain you will be captivated by your travels in this delightful and impressive country, and it is likely that you will find yourself only drawn to return once you leave.
Photo by Werner Kunz on flickr
Germany travel articles
If you're looking for something to really spice up this Christmas, why not take a break to one of Germany's amazing Christmas markets?
Whenever you visit Germany, you'll end up driving on the Autobahn. The Autobahn is the German highway network, known for its lack of speed limits and very large number of German luxury cars going very fast indeed.
Practical information about Germany
Etiquette in Germany
Dining etiquette
Use a fork and knife to eat sandwiches, fruit and most other food.
"Guten appetit" is said before eating and means "enjoy your meal." It is the host's way of saying, "Please start."
General etiquette
Introduce yourself by your last name only – never use your title.
Stand when an elder or high-ranked person enters the room.
Compliment sparingly – it may embarrass people.
Germans are more formal and punctual than the rest of the world. Try to follow suit.
States in Germany