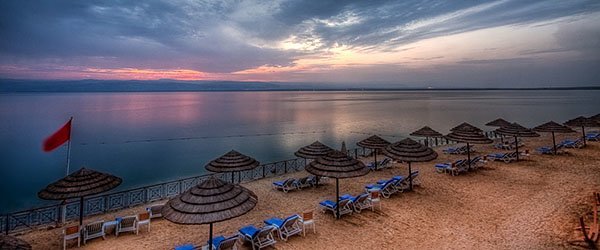 Petra, the magical 'lost city' in the desert, may be the best known attraction in Jordan, but it's certainly not the only one which draws visitors. The country also sports castles from the Crusades, Roman cities long lost to ruin such as Jerash, and castles far out into the deserts.
Then there are the religious sites too, the site where Jesus was baptized in a stream, the spot where Moses first viewed the Holy Land from a mountain top, and a fortress where John the Baptist lost his head, ordered by Herod. Of course, biblical imagery isn't simply lost in the past, as in Jordan you'll still see robed men leading herds of livestock across dusty deserts or ancient rituals still carried out in everyday life.
When you see Jordan's capital, Amman, you'll encounter a modern Arab city. Amman is culturally diverse, and quite far from the stereotypical images of the 'Middle East' that are often trotted out.
If you're looking for action, there's plenty to be had in Jordan. Whether exploring the red desert of Wadi Rum or the deep blue waters of the Gulf of Aqaba, there's adventure to be had. And for a more tranquil experience, the Dead Sea delivers.
But what may stay with a visitor for longest is the everyday life in Jordan. Rich water pipe smoke from the nargileh, or strongly sweetened black cardamon coffee. All backed by jaunty Arabian pop music winding its way through the narrow alleys of the city.
The people of Jordan are friendly, proud and passionate. They value the warmth and caring of middle eastern hospitality, and you'll be welcomed with open arms.
If you're concerned about visitin the Middle East, what with the powder kegs that are Iraq, Israel and the Palestinian territories, Saudi Arabia, Syria, Lebanon, and Iran all near by and dominating the news, relax in that Jordan has remained very quiet and safe throughout.
Photo by Shadi Samawi on flickr
Jordan travel articles
If you're looking for a destination that's just a little bit special for the summer vacation then you might want to think about Jordan. And with visitor numbers down last year, caused in part by uncertainty over the civil war raging in northern neighbour Syria, 2013 in particular might be a good year to find a real value-for-money bargain. Who doesn't want that?
Instead of Dubai, save your hard-earned dollars and visit neighboring Jordan for a cheaper and more down-to-Earth vacation spot.
Towns and cities in Jordan