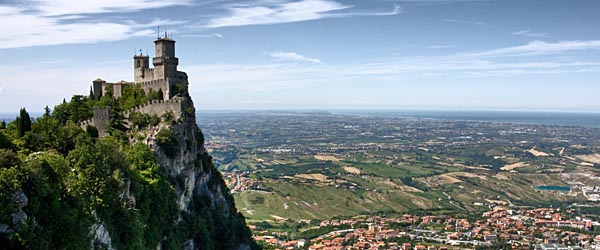 San Marino is the oldest surviving sovereign state and constitutional republic in the world. The community was founded on September 3, 301 A.D. It also has the oldest constitution in the world, dating back to 1600. It has the smallest population of any other state in Italy. It also has no military force and relies on Italy's forces for protection.
There are several historic sites to visit while in San Marino. The three towers of San Marino are located on three peaks of Monte Titano. Guaita is the oldest, dating back to the 11th century. Cesta is on the highest summit and dates back to the 13th century. Montale is on the smallest peak and is the only one that is still privately owned. Palazzo Pubblico is the medieval town hall and the official government building in San Marino.
It sits where the ancient building called Domus Magna Comunius was once sited. While visiting San Marino, you can walk the small ancient alleyways of the city. Make sure to enjoy the shop-lined streets while taking in the scenic terraces and the many small churches. Another great place to visit is Piazza dell Liberta and the State Museum of San Marino. You will understand why this tiny community is part of the UNESCO World Heritage Committee.
Photo by i k o on flickr
San Marino travel articles
Nothing yet!
There aren't any articles written for this location yet. If you have a travel story, advice, or would like to write about a sight, venue, or event here, please get in touch via:
Towns and cities in San Marino