Pack a travel towel when packing light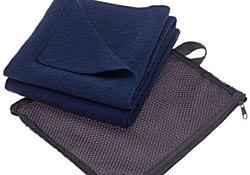 When traveling, especially backpacking or packing light, there are times when there's not a nice fresh towel around where you're staying. Or, on the beach for that matter. Travel towels are amazing for this, as they're quite small, light, and dry very quickly. When getting a towel, pay attention to get one that's really absorbent. Microfibre and soft-fibre towels from manufacturers...
Quick drying t-shirts from Ex Officio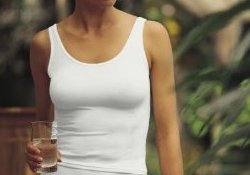 Ex Officio makes a range of quick drying clothes perfect for backpacking, lightweight travelers, or long term travel. I've covered their quick drying underwear range before, and wanted to highlight their useful t-shirt range. There's a men's plain t-shirt, the Give-N-Go Stretch Tee Shirt, as well as a women's tank top, the Women's Give-N-Go Moisture-Wick Tank Top. Either cost from $20 to $36, but are well ...
What to pack: Moleskine City Notebooks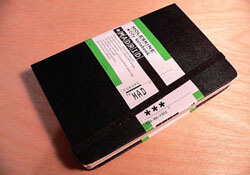 My new favorite guidebooks are Moleskine's City Notebooks. Instead of telling you what they think is best, they give you a map and empty pages to write down your favorites instead! The good things about City Notebooks Since they don't send you along the path of every other poor sap tourist, the City Notebooks open up the city and its possibilities. If you're an independent trav...
Top travel wallets for ladies and men

Any travel wallet, for women and also men, must give you a few important benefits. It requires a light weight, to b...
Read more »

Injinji Toe Socks mean no more blisters

Socks for hikers, runners, and travelers are rarely very exciting and honestly rarely anything too special. The Inj...
Read more »

What to pack: Duct tape

Probably the most useful product in history, duct tape is easy to bring and can help you out in a bind. If you'r...
Read more »

Ex Officio travel sweater for women

My wife and I really like the Ex Officio clothing range both for travel and otherwise. They're always easy to clean...
Read more »

The PERFECT travel accessory

While some of you may prefer the sleek utilitarianism of a Leatherman tool, I prefer to bring every tool possible...
Read more »

Quick drying underwear from Ex Officio

Backpackers and people like me who travel light are always trying to free up space in their luggage. When I'm away ...
Read more »

Bug Band - No mess bug repellent

If you're tired of the mess of most bug repellents, or poisonous DEET, this is a great little product for camping t...
Read more »

Travel fit - pack Kettlestacks

Staying fit while on the road is sometimes difficult. An new portable version of kettlebell called Kettlestacks can...
Read more »

Aloksak waterproof bags

Using plastic shopping bags to pack various items in your bags is an old trick to keep things separated. The prob...
Read more »

Solar chargers for backpackers

Stuck outside, far from everything, and your iPod battery dies. Yep, we've all been there. But if you pack a travel...
Read more »