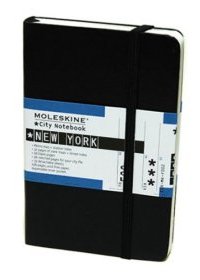 My new favorite guidebooks are Moleskine's City Notebooks. Instead of telling you what they think is best, they give you a map and empty pages to write down your favorites instead!
The good things about City Notebooks
Advertisements:



Since they don't send you along the path of every other poor sap tourist, the City Notebooks open up the city and its possibilities. If you're an independent traveler, they're perfect. Search for the range of Moleskine City Notebooks on Amazon.com.
The drawback of Moleskine City guides
As they make you do the exploring, and work, on your own, you're likely to end up with some dud experiences. Seasoned jet-setters won't have a problem with that, but if you're unwilling to take a risk, these Moleskine guides aren't for you!
Some of my favority Moleskine City Notebooks
Try out one of these City Notebooks, and then let me know what you think. If you need a pen to go with, I recommend a Fisher Space Pen, read the Space Pen review here on eyeflare.com.
You should follow me on twitter here.