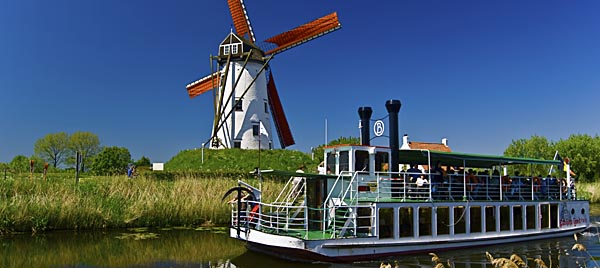 Belgium is a country with an impressive architecture, a lively nightlife, a delicious cuisine and amazing castles and cathedrals. Sometimes it is defined as "the most eccentric European country": Belgium is unique and strange.
Belgium has one of the richest histories of Europe, having been occupied for centuries by different foreign countries. The richness of its artistic and cultural life comes as a consequence: from the Flemish Renaissance to Gothic masterpieces, from the surrealist dreams of Magritte to Art Nouveau jewelry, this small country shows some of the higher expressions of human spirit.
Bruxelles (Brussels), the capital of Belgium and of the European Union, is a city full of contrast. You can relax with a beer in one of the pubs around the Grand Place, one of the most picturesque gothic squares of Europe, or have a look at the busy and modern European institutions buildings. Other places worth visiting are the Cathedral of St Michel and Godule and the Mont des Arts park, that connects the upper and lower parts of the city. There is also the elegant Place Royale, built between 1744 and 1780 in Louis XVI style. A visit to the Museum of Ancient Art and the Museum of Modern Art will let you experience a travel through European history, from middle age to modern surrealism.
Antwerp is the largest diamond trading center in the world. The diamond district is located in the heart of the city, and you'll find an infinite number of jewelries here.it is also a major fashion center, with many designer stores and boutiques around the city. Its trendy bars and nightclubs reflect this status. Don't miss the Royal Museum of Fine Arts and The Rubens House, a magnificent building of the seventeenth century, where the painter lived and worked.
Brugge is a beautiful city with a perfectly preserved medieval center that can be explored from the comfort of a boat through its canals. The myriad of canals has earned it the nickname of 'Venice of the North '. Brugge offers a wide variety of attractions such as Lake of Love, that during the Middle Ages was the city's inner harbor, the town hall of the fourteenth century façade decorated with biblical bas-reliefs and statues, the Cathedral of the Holy Redeemer, a fine example of thirteenth century Gothic architecture.
Photo by Vainsang on flickr
Belgium travel articles
The Kerstbier Beer Festival is one of the highlights of the beer tasting season taking part in Essen, Belgium.
Towns and cities in Belgium