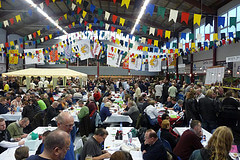 The Kerstbier Beer Festival is one of the highlights of the beer tasting season taking part in Essen, Belgium around Mid-December. It is a beer-lovers' heaven with 3,000 aficionados visiting every year - be prepared for crowds of rather rowdy revellers!
The event is run by O.B.E.R (Objective Beer tasters Essen Region) and good times are guaranteed, with over 100 different bottle beers and 100 Belgium Winter Beers - with all those beers you are sure to find one you like!
Advertisements:



A love of beer is necessary, but a camera for those questionable holiday snaps and drinking paraphernalia may also help make for a memorable trip! Smokers should be advised that no smoking is allowed in the tasting rooms so if night or day-long sessions are planned then nicotine replacement products are advised.
You should follow me on twitter here.