Cheap air fare is the holy grail of travel. It used to be that I'd budget $500 for the flight and $250 for the rest of the trip... but now competition has driven down prices to the point where truly cheap flights can be had.

Budget airlines together with over-crowding on many routes have lead to plummeting prices for plane tickets. Here are our best tips for finding the best fares, complete with a short checklist to follow.
Tips for finding cheap flights
1. Plan ahead
Plan your trip 3 or 4 months in advance for high and mid-season trips and you should get plenty of value for your money. As you get closer to the travel date, prices go in only one direction, and that's up.
2. Go online
The internet is unbeatable for comparing air fares quickly. There are many 'meta' search engines for air fare available, and a list of the best is available in our airfare consolidators round-up. The newest ones, such as Kayak.com or Momondo.com, search a large number of sites on your behalf. From the many thousands of results, they find the offers that best fit your needs. Links to sites are at the bottom of this article.
3. Visit Farecast to time your travel
Farecast let's you check when the route you're flying is likely to cost the least. The air fare forecasting website works best for North America, but it's always worth a visit to see if it gives you results.
Advertisements:



Sadly, the Farecast service has been closed.
4. Have flexible travel dates
In your search, it will pay off to be flexible with your travel plans. Going the day before or day after the dates you originally searched for may be much cheaper.
5. Include a Saturday night
The cheapest Apex fares are only available for travelers that stay over a Saturday night. As business travelers usually travel inside the week, Monday to Friday, those who stay over the weekend often get a significantly better rate.
6. Avoid Mondays and Fridays
These days, especially early mornings and late afternoons, are peak business travel days. Leisure travelers do well by avoiding travel with the seasoned road warriors.
7. Travel during odd hours
If you're willing to travel at midnight, or at 5.30 AM, you'll find some very cheap options if you plan ahead. Very few travelers book these tickets other than by necessity, and prices are often very low.
8. Fly on Christmas Day
For the holidays, try booking your travel on the main day. Passengers are few and far between, prices are lower and service is better. This also goes for Thanksgiving Day, and any other major holiday on the calendar. Just make sure that public transportation is running at your destination, if you're not renting a car. As an added bonus, you're unlikely to come across any families traveling with babies.
9. Try nearby airports
Sometimes, like in the case of London or Chicago, there are a number of airports in close proximity. Include not just Heathrow (LHR) or O'Hare (ORD) in your search, but include London City Airport (LCY) and Gary Chicago (GYY) in your search. These airports are often easy to reach, and prices are often better.
10. Book direct with the airline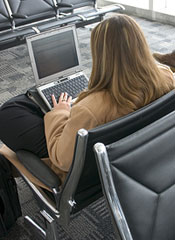 Before you book with an agent or online travel site, do a search for the same flight on the airline's website. You may find that the price is lower.
11. Look for air fare promotion codes online
Recently, most of the major airlines have offered "coupons" or "promotional codes" you type into their air fare booking systems, to claim the cheapest fares. To get the codes, sign up for the airlines' frequent flier programs and email newsletters. You can also use Google to search on the phrase "promotion code" plus the name of your airline, for example "promotion code virgin america", and only look for the most recent results. Airfarewatchdog's blog is another great source.
12. Call a travel agent
Start with the Yellow Pages and try to find a specialist for the country you're going to. They often have the best knowledge and may be able to get you a better fare or hotel price. Alternatively, they may be able to sort you out with better quality accommodation, a nice rental car, or more flexible flights for the same money or just a few dollars more.
13. Consider a package deal
Booking a travel package will save 30 to 50 percent off your airfare. It's usually more profitable to book a travel package deal than booking the flight, hotel, and car rental separately. It's often possible to get a whole package for less than a regular flight would cost.
14. Go off season
Many destinations, such as the Canary Islands or The Caribbean, don't really have an off season. In fact, avoiding the times that the place is most busy often means cheaper hotels, restaurants, car rentals, and so on as well. And there are fewer tourists around. It pays to research this option though, as some places pretty much shut down after the peak season and the locals take their vacation.
15. Take advantage of the 'shoulder season'
This is the period between the peak season and true low season. Tourist crowds are sparser, and prices go down. The weather usually stays great and there's a better chance to interact with the locals. And in many places, such as Venice, Marrakech, or New York, the heat dies down and you'll have a much more pleasant stay.
16. Book with a local airline
There are many, many more airlines in the world than the big international carriers. Research the market and see if you can book your local flights with one of these small players. They often use smaller planes and local airports, which can mean significant savings compared to code shares from an international airline. Quite a few of these won't be included in your standard air fare search engines, so you may uncover a fantastic deal by booking direct.
17. Student discounts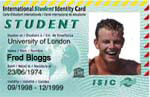 If you're a student, you can often find more affordable deals by checking out student discounts and flight packages. There are quite a few options available for round-the-world packages or discounted multiple flight packages for students. To get access to the best student rates, get an International Student Identity Card, also known as ISIC.
18. Pay with a credit card
Not really a tip for finding a lower fare... Often, your credit card will include travel insurance for free when you pay with the card. This really saves you $10 to $20 per trip. It will also give you added protection should the airline go out of business without refunding your money.
Checklist for finding air travel bargains
Here's a handy step-by-step list to search for travel bargains, take notes as you go along and it won't take you more than an hour:
Check the travel meta search engines, these are some useful sites:
Go directly to your best options websites. For example, if American Airlines seems to have the cheapest flight tickets to Los Angeles, check how much a ticket is on aa.com. You might find that they're even cheaper here. Do the same for the five best prices you got in step 1.
Find out if there are any promotion codes available, try Googling for "fare promotion code".
Get offline and call a travel agent. For the best results, start with the Yellow Pages and try to find a specialist for the country you're going to. The agent's insider knowledge can sometimes score you a bargain.
Go right back to your best option and book it. Yes, now. The super-bargain price you just found won't last long - online or offline.
Your tips
Share your best tips for finding cheap flights in the comments. Happy bargain hunting!
You should follow me on twitter here.