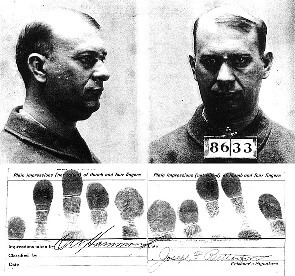 Anyone who's traveled to the U.S. since 2004 knows that the Department of Homeland Security (DHS) has collected the index-finger prints of all foreigners. Now, just to make sure you feel like a criminal suspect, they'll go ahead and take prints of all 10 fingers!
The new US-VISIT program
DHS now has over 90 million sets of prints in its databases. Of course, you're also photographed each time you pass through immigrations, so who knows how many portraits they have.
This new version of the US-VISIT program now will require foreigners to get all 10 fingerprints scanned. Homeland security spokesman Russ Knocke said to USA Today that biometrics can be a game-changer: "They represent what terrorists fear most - an increased likelihood of getting caught."
The new records won't look quite like the illustration on the right, but it's pretty close now. DHS is collecting very private data, in massive volumes, and who knows how safe it will be. And all in the name of stopping terrorism.
Never mind that none of the 911 terrorists had been charged for any crime before their heinous attacks. And because of that, none of their prints or photos were on file with the federal government.
It rather seems that DHS has decided that U.S. tourism is far too popular, and is doing all it can to cut the feet from under it. American vacation destinations, and the people who make their living off them, are already feeling the crunch, and this is likely to make it worse.
Advertisements:



And then we could mention the impact on business travel. How would you take to being fingerprinted at JFK Airport just before your multi-million dollar deal meeting is about to take place in Manhattan?
Initial airports affected by the new US-VISIT policy
Beginning in March 2008, foreigners flying into the following airports will have to provide all 10 fingerprints:
Washington, D.C. area (Dulles)
Boston
Chicago (O'Hare)
Detroit
Atlanta
Houston (Intercontinental)
Miami
New York (Kennedy)
Orlando
San Francisco
Travel to the U.S. and getting through immigration before this was irritating enough, now it'll likely be downright infuriating!
You should follow me on twitter here.