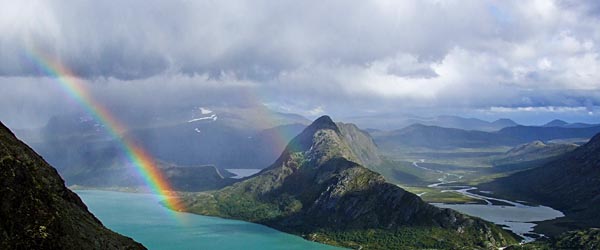 The country of Norway is located in northern Europe, and is part of the general geographic region known as Scandinavia. The cosmopolitan city of Oslo is Norway's capital. The country is roughly 150,000 square miles in area, and has a population of about 4.9 million. Specifically, Norway is in western Scandinavia and is bordered to the north and east by Sweden, Finland, and Russia. Norway's topography is most famous for its fiords, which are long, deep gouges into the coastline that were formed by glacial action during the Ice Age. The fiords, framed by the mountains behind them, comprise some of the most spectacular and dramatic scenery in the world.
Norway is a modern democratic nation, with a constitution as its governing document. The constitution, much like that of the U.S.A., calls for three branches of government, those being a parliament, whose function is legislative, an executive branch headed by its prime minister, and a judicial system of courts. However, Norway's head of state is a monarch, whose duties are mostly ceremonial. King Harald V is currently the head of state. Norway has a healthy economy and vast natural resources, such as petroleum, that help its people enjoy a high standard of living. Universal health care is available to all citizens and the unemployment rate is less than four percent. While Norwegian is the national language, almost everyone speaks at least some English, making Norway a welcoming destination to North Americans.
Photo by Feffef on flickr
Norway travel articles
The amazing beauty and immense majesty of the Norwegian fjords is a natural site that is practically unparalleled in natural formations.
Towns and cities in Norway