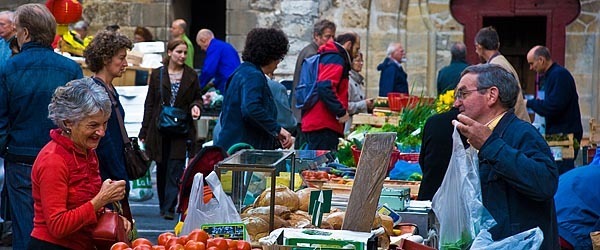 Comment allez-vous mon ami? That's French for how are you my friend? It just feels right to include a greeting in French when talking about France. France, from its language to its culture to its cuisine presents to the world an embarrassment of riches and diversity and to the average traveler; it may seem like a bewilderment of choices.
France is not only famous as a the country of love, it is also known for its world famous cuisine, its artistic culture, and the popular poets and artists that the country has and it is also famous for its fashion from avant garde couture clothing to its casual street wear.
If you are planning on a trip to France, then plan you must, or else you will be lost in what to do and see in the beautiful country. Let's start with dining in France. For starters, if you are looking for a fine dining experience, then introduce yourself to France's coveted Michelin three-star rated restaurants such as Restaurant Plaza Athénée. For a more affordable affair, the Crémerie-Restaurant Polidor is a great place to go as it features authentic France cuisine that is reminiscent of food cooked in the days after World War II.
This is a just two of the thousands of restaurants in France. You can choose from home cooked French cuisine to fine dining or even hitting the clubs and pubs to experience night life in France.
Want a taste of heritage? France also has a wide variety of enchanting castles and palaces to whet your historic appetite. The Château de Versailles is the most spectacular palace in the world with a history that is bathed in ironies and tragedies and a witness to the French Revolution. Palais de Fontainebleau is another stop for a heritage walk as this palace is where Napoleon himself declared it as his favorite.
If you would like to experience living in one of these amazing historical places, then Château de Locguénolé, Château des Alpilles and Trianon Palace & Spa are some of wonderful choices. Trianon Palace & Spa for example is where Louis XIV nearly bankrupted France when constructing his palace nearby.

If you are in France, then the Musée du Louvre must be visited. We cannot stress to you how important this is. Known the world over, this museum contains artistic riches, 300,000 paintings and the very famous Mona Lisa. The Centre Pompidou is also another must visit as it is considered the most avant-garde building in the world where you can indulge in 20th-century art from Calder's 1928 Josephine Baker to over 40,000 works from other artists.
Want a ride to France's panoramic views? Then the numerous driving tours around France can help you get there such as the La Route des Grandes Alpes which is to the French Alps where you can see the Alpine uplands, larch forests, glaciers as well as the foothills of the famous Mont Blanc.
La Route des Crêtes takes you to the one of France's oldest mountain ranges, the Vosges, where you can see beautiful views of firs and hardwood forests and chiseled mountains. Hiking trails can also be explored in this mountainous region of France though it is best to go there with a guide who knows the trails well.

What is the best way to get to France? Flying to France is the most effortless way of course.  There are two major airports which are Orly and Charles de Gaulle. You can also take Channel Tunnel opened in 1994 which accommodates not only trains but also cars, buses, taxis, and motorcycles. You can take the Eurotunnel, a train carrying vehicles under the Channel.

Traveling to France is hassle free as all you would need is a passport, airline ticket and enough money to get you around. Advance preparation is also good and the best place to help you plan a trip to France would be the French Government Tourist Office at www.franceguide.com.
Map books and fold-outs on touring France and road maps can be found at any large bookstore in France but the best guides would be the ones published by Michelin as they offer alternative routes de dégagement, which shows you roads and alternative options that you can use to avoid traffic-clogged highways. One good recommendation would be the France Touring and Motoring Atlas.
Though all year round is a good time to visit France, recommended times would be in spring (Apr to June) as well as in the fall (Sept to Nov) as things are less packed and much easier to visit. Weather is also good all year round, depending on which part of the country you're visiting. May is the driest month with a staggering foggy drizzle amount of rainfall from October to December. Paris never gets really cold despite its latitude and snow is rare. So what are you waiting for? Visite veneze France!
France travel articles
Three of Northern France's most picturesque locations will make superb vacation spots this summer.
Taking the bus to France from London works out much cheaper than flying or Eurostar. Use the money saved for more fun!
Driving in France brings a new set of rules, like needing to bring a breathalyzer in the car.
French restaurants have been beleaugured by chains selling take away food and sandwiches for some time, as eating out became very expensive in France.
The French eating habits are much healthier than those of other Western countries. Find out their secrets
Wherever you can eat you can invariably drink, and vice versa. Drinking is done at a leisurely pace whether it's before food (apéritif), after (digestif), or during a meal, and cafés is where everyone has a drink.
Practical information about France
Etiquette in France
Dining etiquette
Never eat fruit whole. Peel and slice it.
Don't cut your crusty baguette – break it with your fingers.
Don't order a martini or scotch before dinner; they're considered palate numbing.
General etiquette
The French value their privacy – don't be nosy.
Avoid using any of the following in public: nail clippers, combs, toothpicks, chewing gum. And while you're at it, don't scratch or yawn either.
The French don't make or tell jokes. How's your sartorial wit?
Regions in France