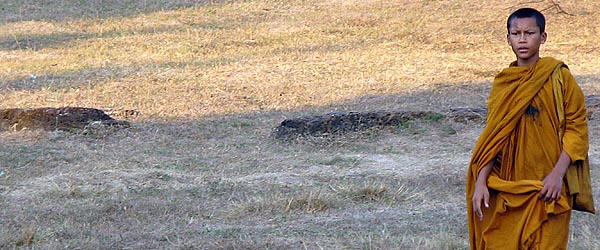 When you think of traveling to Southeast Asia, you might think about going to Vietnam or to Thailand. However, more and more people are making their way to Cambodia. It's a beautiful country with a terrain that changes as you move through it. Of course there are the flatlands where rice is grown, but there are also higher and even mountainous areas as well as jungles. The Mekong River is one noticeable body of water as is the beautiful inland freshwater lake. You can relax on beautiful beaches and enjoy the warm climate.
The city of Phnom Penh is gradually becoming more stable after a long period of poverty and instability, so you'll want to visit it to see for yourself how the niceties of life are returning to a place that for so long had to do without. There are nice touches here and in towns around the country that remind of French colonial times with French culture, food, and architecture.
For an ancient perspective travel to the grand temples at Angkor Wat to see how this primarily Buddhist country developed spiritually and culturally.
If you're looking for more of a party town atmosphere or want to relax with the backpacker crowd, head to Sihanoukville on the coast.
Photo by flydime on flickr
Cambodia travel articles
Cambodia's history is full of dark events, especially the Khmer Rouge regime's atrocities.
Practical information about Cambodia
Facts and map
Country background
Most Cambodians consider themselves to be Khmers, descendants of the Angkor Empire that extended over much of Southeast Asia and reached its zenith between the 10th and 13th centuries. Attacks by the Thai and Cham (from present-day Vietnam) weakened the empire, ushering in a long period of decline.
The king placed the country under French protection in 1863 and it became part of French Indochina in 1887. Following Japanese occupation in World War II, Cambodia gained full independence from France in 1953.
In April 1975, after a five-year struggle, Communist Khmer Rouge forces captured Phnom Penh and evacuated all cities and towns. At least 1.5 million Cambodians died from execution, forced hardships, or starvation during the Khmer Rouge regime under Pol Pot.
A December 1978 Vietnamese invasion drove the Khmer Rouge into the countryside, began a 10-year Vietnamese occupation, and touched off almost 13 years of civil war. The 1991 Paris Peace Accords mandated democratic elections and a ceasefire, which was not fully respected by the Khmer Rouge.
UN-sponsored elections in 1993 helped restore some semblance of normalcy under a coalition government. Factional fighting in 1997 ended the first coalition government, but a second round of national elections in 1998 led to the formation of another coalition government and renewed political stability. The remaining elements of the Khmer Rouge surrendered in early 1999. Some of the surviving Khmer Rouge leaders are awaiting trial for crimes against humanity by a hybrid UN-Cambodian tribunal supported by international assistance. Elections in July 2003 were relatively peaceful, but it took one year of negotiations between contending political parties before a coalition government was formed.
In October 2004, King Norodom SIHANOUK abdicated the throne and his son, Prince Norodom SIHAMONI, was selected to succeed him. Local elections were held in Cambodia in April 2007, with little of the pre-election violence that preceded prior elections. National elections in July 2008 were relatively peaceful.
Getting there and around
Getting there
Main entry points
Airports
There are airports with international flights in both Phnom Pehn and Siam Reap. However, it's often a better choice to travel through Bangkok for more frequent, and cheaper, flights.
Phnom Penh International Airport (PNH)
Siem Reap International Airport (REP)
Land crossings
It used to be that you could only cross into Cambodia at the Bavet–Moc Bai border crossing with Vietnam. You can now cross at many other borders, including those to Laos, Thailand, and Vietnam. These tend to be outside the tourist trails though, and more suitable to drive trucks across them.
Bus
There are bus services from Vietnam and Thailand to both Phnom Pehn and Siem Reap, including an infamous service to the latter from Bangkok.
Cars and motorcycles
Cars and motorcycles need registration papers, insurance documents and an International Driving Licence to enter Cambodia. It is complicated to bring in a car, but simpler to bring in a motorcycle, given that you have a vehicle passport, also known as a 'carnet de passage'.
Trains
There are no passenger train services crossing into Cambodia.
By sea
There is a river border crossing between Cambodia and Vietnam on the banks of the Mekong. There are regular fast passenger boats plying the route between Phnom Penh and Chau Doc in Vietnam, via the Kaam Samnor–Vinh Xuong border crossing. There are also a couple of luxurious river boats ­running all the way to the temples of Angkor in Cambodia. There is also a river crossing on the Mekong border with Laos, although most travellers use the road these days.
Immigration and customs clearance
Ensure that you have at least six months validity past the end of your trip for any trip to Cambodia, or your visa application will be rejected. Also note that Cambodia, as many other Asian countries, have large visa labels, and it will take up a full page in your passport. Get extra pages ahead of your trip, you may need them.
Towns and cities in Cambodia