Introduction to Sihanoukville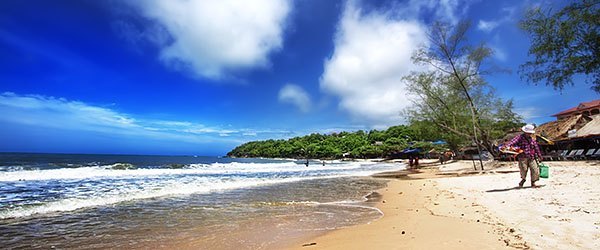 Located just on the Cambodian south-west coast you have the wonderful backpacker haven that is Sihanoukville. Named after the late Cambodian King, Sihanoukville is a chilled out party town with lots of creature comforts from home - which you'll be happy to here if you've been on the road for a while!
It is also a great stop over town and base, if you want to escape to the other Cambodian islands or famous coastal towns of Kampot and Kep.
Below we have handpicked a list of top places and things to do whilst in Sihanoukville and also the best way to get to its great neighboring towns and islands as well.
Serendipity Road
This is the main party side of Sihanoukville and where you'll find the majority of its guesthouses, hotels and bars. Orchella beach just comes off Serendipity Road, where you will find lots of bars all set out in the sand where you can enjoy fresh fish BBQ and tropical cocktails.
Five beaches
Yes, you read that correctly five amazing beaches for you to explore whilst you are holidaying in sunny Sihanoukville. You have; Victory, Otres, Socha, Orchella and Independence beach. Each one slightly different, with Otres and Socha being the prettiest beaches and Orchella being the beach with the most nightlife. Best to hire a motorbike for a day and give them all a rating in person!
Markets
As a lot of Cambodia is still not very developed in some areas, if you need a new camera or laptop for example, it can be very hard to get such things if you are not near towns like Sihanoukville or the capital Phnom Pehn. Stock up on most things that you're likely to need through your trip here or you may find yourself going without when visiting other places.
Night life
The night life in Sihanoukville is renowned throughout South East Asia and it will not fail to deliver whatever night of the week you want to go out. From bars all along the beach in Serendipity to Victory Hill and jungle raves and events arranged at Otres beach – make sure you get plenty of rest before you get here!
Good stop over town
As stated, Sihanoukville acts as a great base town if you're wanting to explore more of Cambodians rural regions or tropical islands. From Sihanoukville you can reach the islands of; Koh Rong, Koh Rong Shalom, Koh Russei and Koh Tiev. Most take around a 2 hour ferry ride but also can be reached by speed boat for a few dollars more.
If you'd like a little motorbike adventure up the coast but don't want to take your big backpack, why not leave all your things in Sihanoukville and hire a motorbike?
Most bike rentals only cost around $5 a day, so you could visit the towns of Kampot and Kep up the coast and stop off at your own leisure.
Photo by Chris Ford