Costa Rica travel guide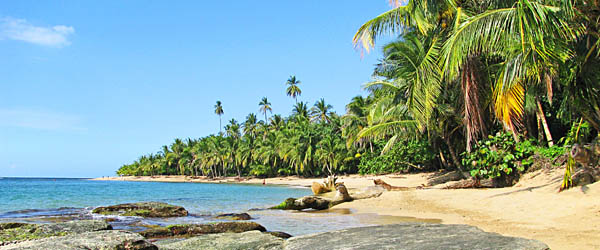 Costa Rica is a virtual paradise, located in a chain of the small nations of Central America at the nexus of North and South Americas and two oceans.
Costa Rica has some of the most beautiful scenery in the world, with the Pacific Ocean forming the country's Western border and the Caribbean on the East. While both coasts have some of the most incredible beaches anywhere on the globe, the beaches along the Pacific Ocean are less developed.
Though the country's physical size is comparable to Denmark in Europe or West Virginia in the United States, five percent of the entire world's biodiversity can be found here with over 200 species of mammals, 2,000 types of trees, and over 1,000 different orchards, which you can explore in sites like the Monteverde Cloud Forest Reserve or the Cocos Island. The animal and plant diversity here is unlike anywhere else in entire world, and about one-quarter of the land in Costa Rica is protected thanks to the country's great sense of environmental compassion.
The climate is as beautiful as the scenery, where subtropical conditions linger year-round. The wonderful climate makes it easy to explore the country's several national parks and other nature preserves. The Braulio Carrillio National Park's volcanic mountains are an Eden-like setting for 500 types of birds, including the mythical quetzal, and over 135 types of mammals, such as the graceful puma and unusual tapirs. There is also a one-of-a-kind rainforest tram, which takes visitors on a 90-minute ride through the rainforest. There is nothing else comparable in the world! For more volcanic sights, Arenal Volcano is not to be missed either.
At Poas National Park, you can drive straight up to the edge of an active volcanic crater, and in the far southern Osa Peninsula, the Corcovado National Park is home to giant predators like jaguars, crocodiles, and hammerhead sharks. ChirripĆ³ National Park is a wonderful nature reserve on Costa Rica's highest peak.
At the Tortuguero National Park, green sea turtles have found a safe haven, and visitors can watch the intriguing creatures dig their nests along the beach. Several other national parks provide practically infinite opportunities to explore and enjoy some of the most beautiful, well-conserved areas on Earth.
Photo by ryankozie on flickr
Costa Rica travel articles

Tenorio Volcano National Park, Costa Rica
This gorgeous national parkk also has the attraction of the bright blue river Rio Celeste.

Cocos Island, Costa Rica
Cocos Island, Costa Rica is considered to be ecologically like no other region of the world. With its wet climate and tropical forests, Cocos Island has a miraculous display of flora and fauna.

Chirripo National Park, Costa Rica
Costa Rica's Chirripó National Park is a great place to visit for tourists who don't mind some serious hiking.

Arenal Volcano, Costa Rica
When you visit Costa Rica, be sure that you don't miss the Arenal Volcano. Located about 50 miles from city of San Jose, in the district La Fortuna, Arenal Volcano is a breath taking natural wonder.
Beautiful Costa Rica
A new entrance to my travel destination wish list is Costa Rica. It's a gorgeous country and would be a great winter break.
Towns and cities in Costa Rica