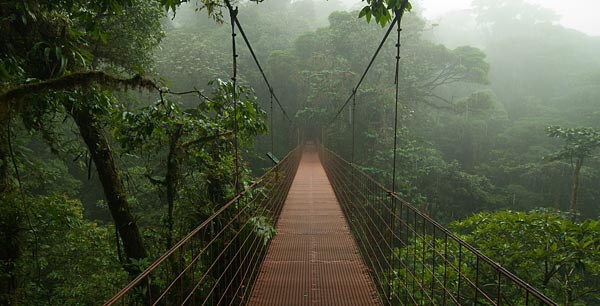 Monteverde Cloud Forest Reserve may be one of the most beautiful and diverse environments on the planet. Located near Monteverde, a small town in Puntarenas, Costa Rica, the reserve covers 10,500 hectares. More than 70,000 tourists visit this major ecotourism destination each year.
Monteverde Cloud Forest Reserve has the largest number of orchids in the world. The reserve currently has more than 400 different types of orchids, 34 of which are newly discovered. You can also find over 60 species of amphibians and 91 species of migratory birds.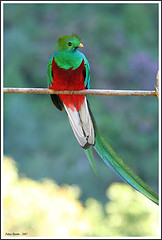 One bird species in particular calls this home. The Resplendent Quetzal is a brightly colored bird in the trogon family, pictured left.
Monteverde was first settled in the 1950's by Quakers fleeing America to avoid the draft. They lived a peaceful, simple life with their production of dairy products and cheese. By 1972, local farmers wanting to expand their land, wanted to tear down the trees in the rainforest.
This prompted George Powell and his wife to team up with Wilford Guidon to promote the establishment of the nature preserve. The Tropical Science Center got involved and assumed ownership of the property. Today, you can visit Monteverde Cloud Forest Reserve and see the picture perfect scene. Guided tours and hiking trails are available daily at the Reserve. Just call and check their hours.
Monteverde Cloud Forest Reserve location
Advertisements:



Monteverde Cloud Forest Reserve
Near Monteverde
Puntarenas Region
Costa Rica
Photos by ClifB (1) and brettocop (2) on flickr
You should follow me on twitter here.