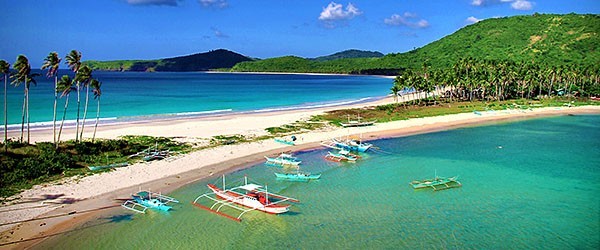 The Philippines are a collection of 7,170 islands situated in South East Asia to the west of the Pacific Ocean. Steeped in lush green jungles, white sandy beaches and smoldering volcanoes – it's not hard to see why The Philippines has built up a reputation of being purely paradise like.
You have its capital Manila which is a bustling, hot city metropolis and the country's commercial centre. But as soon as you start to come away from the cities you will have a treasure chest of natural wonders to behold and a plethora of beautiful islands to discover amongst its archipelago.
Below we have included a brief summary of the top places to visit in The Philippines, as there is quite a few and you may not have time to get around them all!
Tubbatha Reef – Diving
This location is ultimate popular amongst divers due to the wealth of coral and marine life that can be spotted it the Tubbatha area. Right in the heart of the Sulu Sea, the Tubbatha Reef is a protected world heritage site and of marine conservation. Coral walls let divers experience a whole new underwater world by revealing more and more as you get deep and deep into the ocean here.
Manila
The Philippines capital is absolutely littered with fine examples of colonial architecture. One of the most significant being the San Agustin Church located in the city's centre.
Built in 1589, the stone carvings and amalgamation of different influences will have you mesmerized by this building. The interior has a very Mexican feel, whilst the ceiling was painted by the famous Italian artist Giovannia Dibella and Cesare Alberoni. Prepare to have your jaw dropped as you wonder around this beautiful church, that has survived through seven earthquakes during it's time!
Mayon Volcano
If you can't take the heat then stay away from The Philippines most active Volcano – Mount Mayon. The mighty Mount Mayon is a staggering 8,000 feet above sea level and is famous for its perfectly symmetrical formation and crater. Watch out for it's lively temperament as it has erupted 49 times in the last 400 years, the most devastating eruption came in 1814 and the ruins of the church and village can still be visited today.
Malapascua Island
What trip to The Philippines would be complete without a trip to one of its 7,170 islands? Imagine your very own picture perfect island paradise and that's what you'll find upon arriving to Malapascua. Here you can laze under coconut filled palm trees, trek through its lush rainforests, go snorkeling and diving or just sip Mai Tais on the beach all day!
Where ever you in the Philippines is a destination that is not so much on the usual tourist beaten track, so you really have a chance at finding your very own piece of paradise!
Philippines travel articles
Nothing yet!
There aren't any articles written for this location yet. If you have a travel story, advice, or would like to write about a sight, venue, or event here, please get in touch via:
Towns and cities in Philippines