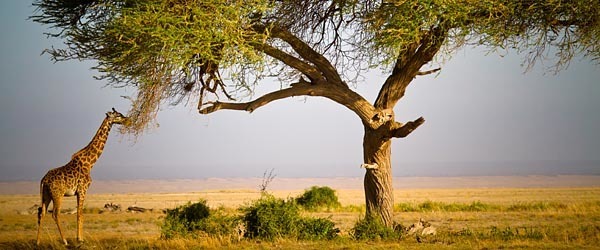 The first thing that probably comes to one's mind when thinking of Kenya is - you guessed it - safari. This jewel of Eastern Africa is the prime destination for wildlife lovers and abounds in nature parks and reserves. The thrill and joy of passing by herds of elephants, driving alongside prides of lions or simply gazing upon a landscape filled with innumerable antelopes is hard to surpass. Or you can visit one of the soda lakes and take in birdlife, such as thousands of pink flamingos at Lake Bogoria National Park. Kenya is a window to a world very different to our usual urban surroundings, a world teeming with life in which the planet, not man, rules supreme. And though we may find it hard to admit, that world is, in most respects, far more beautiful and enchanting that the one we live in every day.
But there is much more to Kenya than just dream-like safaris. Its beaches, caressed by the waves of the Indian Ocean, are renowned for their beauty. Experience the Lamu Archipelago and the Lamu Old Town for seaside relaxation. Kenya's Great Rift Valley, spreading throughout the land, is a veritable wonder of nature. And, near Kenya's southern border, you can catch a glimpse of the famed Kilimanjaro, rising in the distance.
The peoples of Kenya are a story unto themselves. A cradle of humanity, Kenya has seen great migrations of men throughout its long history. Every wave added something to the cultural heritage which simply beckons to be explored. And since most Kenyans speak English as well as the local Swahili, you should have no trouble delving in it as deep as you want.
Whatever your chosen path may be, make sure you carry your camera with you at all times, for the sights of Kenya never stop surprising you. And bear in mind that hot African weather!
Photo by The.Rohit on flickr
Kenya travel articles
Nothing yet!
There aren't any articles written for this location yet. If you have a travel story, advice, or would like to write about a sight, venue, or event here, please get in touch via:
Towns and cities in Kenya