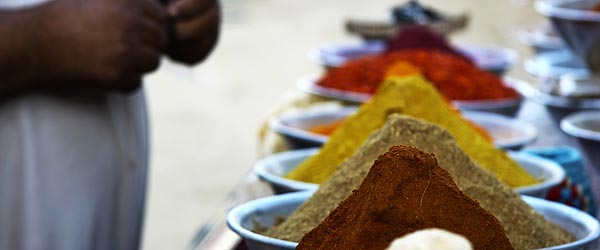 History and modern Arab cities mix in Egypt. There are few people who are not aware of the Egyptian Pyramids or the River Nile. There are truly few places on this planet that can match the history of Egypt. The full name is the Arab Republic of Egypt and Arabic is the primary language. Cairo is the largest city in all of Africa and is home to a vibrant night life. The city's medieval center hasn't changed since the nascence of Islam, and is still a warren of alleys and markets where you can spend hours, if not days, getting lost among the chatter, foods, and handicrafts.
The many different cultures who ruled this area have all left their mark through architecture and landmarks. The great pyramids are only the tip of the archeological iceberg, and the Arab, Christian, Roman, Greek, and Pharaonic eras have all put their marks on the land and its people. Besides the pyramids you can visit the Great Sphinx, take a safari, visit Alexandria, or take a Nile cruise. Then there is the city of Luxor, which sited ancient Thebes, which has dozens of burial chambers and magnificent monuments to visit.
In the south, the city of Aswan is teeming with temples serving now-dead gods and the faded powers of the pharaos. Aswan is a wonderful starting point for a Nile cruise, especially by sailing a felucca downriver towards the mediterranean.
There are several international airports in Egypt and most major cities will have some familar fast food choices. The beaches along the Red and Mediterranian Seas are very popular with European vacationers and there are many all inclusive vacation resorts in these areas, such as Sharm el-Sheik.
The nearby desert of Sinai has its own charms, and here a tourist can climb Mount Sinai. After that exercise, spending some time at the relaxed backpacker coastal town of Dahab and its beaches is a sweet reward.
It would be wise to do some home work before making your trip to Egypt as there are too many places and sights to see in one trip so choose those important to you before you embark.
SAFETY: After the Arab Spring events of 2011, Egypt is a freer country. That doesn't mean it's necessarily safer. The main tourist areas are very safe, but it's best to take care and pay attention to developments as old schizms are still noticeable in Egyptian society, and they occasionally resolve violently.
Photo by Angelo Domini on flickr
Egypt travel articles
Egypt offers a great range of activities and sights for an active family vacation
Without the Nile River, Egypt would have never blossomed and the world would no doubt be a very different place today.
The Egyptian temples are fascinating places to visit. One thing you will probably not have realized before your visit is that they are exceptionally old.
Practical information about Egypt
Quick Egypt facts
Area: 997,739 sq km
Capital: Cairo
Country code: 20
Population: 81.7 million
Money: Egyptian pound (E£); US$1 = E£5.55; €1 = E£7.81
Official name: Arab Republic of Egypt
Visas to Egypt
All travelers except citizens of Guinea, Hong Kong, and Macau need a visa to enter Egypt. Most western travellers can get this at arrival at the airport.
Towns and cities in Egypt
Weather in Egypt
Egypt is essentially a desert, a part of the great Sahara that stretches across Northern Africa. Save Apart from the narrow strip of irrigated farm land down the Nile River, not much may endure here. Like the ancient Greek historian Herodotus expressed: "Egypt is the gift of the Nile".
Normally, the summer months are very hot and arid and also the winter months, mild. November through March tend to be the preferred several months regarding traveling in Egypt. There's virtually no rainfall within the Nile valley, which means you will not require wet conditions clothing!
The weather, nevertheless, can differ slightly based on where you're in Egypt. On the northern coastline along side the Mediteranean Sea, a slender line of terrain stretching from the seaside to fifty km southwards gets probably the most significant rainfall in the land during wintertime months. Severe storms together with large rain showers that frequently last a few hours aren't rare here like around Alexandria, Marsa Matruh as well as other coastal regions, including the Delta. Some years the rain storms may last for an entire day or possibly even longer, although the rain is usually less heavy. Hail can be common, particularly outside in the desert where weather conditions are typically chillier and allows for snow to drop and perhaps frost to develop on dry days.
Within the Sinai Mountain range as well as the Red Sea mountains, that stretch over the eastern side of the country down the shoreline of the Red Sea, there's usually even more rainfall because rain clouds typically grow when heated air evaporates and climbs up as it moves over elevated terrain. Flooding in these places certainly are a frequent weather event as a great deal of rain may fall in a really short amount of time (frequently a day or two), along with thunder and lightning too. Due to the desert and not enough plant life, water from the wet weather rapidly comes down through the hillsides and mountains and floods localized areas. Actually, each year you can find accounts in the local papers concerning flashfloods in regions of the Sinai as well as in Upper Egypt (southern Egypt) including in Assiut, Luxor, Aswan, Sohag, etc.
These floods, nonetheless, merely take place 2 or 3 times annually, and quite often don't take place at all in a number of years, dependant upon the weather. Once they happen however, it's often in early points during the season for example in September, October or late winter months like February or March (usually the rainiest season in Egypt). Hence, you'll want to be mindful when going out in the desert or camping outdoors in some locations as water can unexpectedly speed down from the close by foothills and mountains. It might occasionally have a powerful current which has been seen to break down houses of countryside people that construct their houses from mud, brick, along with other weak materials. It's not at all unexpected to learn that a few people drown in the deluges, which can be bizarre for a desert nation which doesn't get a lot of rainfall.
Also, in greater heights like on top of the Sinai mountain range, temperature may fall far more compared to the nearby regions, permitting snow in the wintertime, considering that temperatures can easily decrease to below freezing, together with formation of frost even in the low lying desert locations where temperatures are usually quite a few degrees chillier compared to the towns and cities.
December and also January are normally the coolest calendar months of the season, even though it is generally warmer the more towards the south you travel and inside the larger metropolitan areas.
Tourists should know that a majority of homes and residences in Cairo and Egypt will not have a central heating system like nations with wintry environments since the principal weather issue in Egypt will be the heat. Consequently, although the climate may not be so frigid for a European or American traveler, within the residence it could be actually colder because the temperatures on the inside is commonly a couple or quite a few degrees colder when compared with the street.