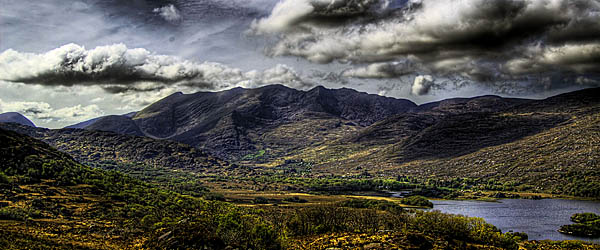 The ancestral home too many hundreds of thousands of Americans, Ireland is both familiar and yet a bit mystical in nature. The island nation shares a common language with the United States, although there is a define Gaelic twist to it. The food is familiar, but still not just like home, and the people who live there have the common European / American look to them in physical appearance, manner, and dress. So if things are pretty much the same in Ireland as the United States, why visit?
First, although there are a lot of things that might seem familiar, they are by no means the same. The land, the history, and the disposition of the people of Ireland are all quite different from the United States and well worth getting to know first hand.
Being situated more northern than most of the United States and being surrounded by a massive ocean with nothing to take the edge of it, the land of Ireland is a true sight to behold: Within the span of a few miles you can travel from a rugged rocky coastline, through a series of green pastures and arrive at mountains. Each of these areas has features worth exploring. The ocean beats against the rocky coast with waves that dwarf most other places. As a result the exposed coastline is unique and beautiful. The middle lands are filled with towns and farmland that rapidly roll by as you travel through them. Be sure to note the Irish castles and other ancient structures that help provide you with a view into how long this land has endured and indeed thrived.
For all the nostalgia and history, Ireland is also a modern thriving country with metropolitan areas that rival any in the world. Dublin is home to many international companies and offers visitors the chance to take in five star dining and sleeping accommodations. The city also boasts top cultural events including operas, plays, museums and more. There is one final bit of Ireland that can't be skipped, the chance to golf on some of the oldest courses in the world.
Photo credit: 'Killarney National Park' by slinky2000 on flickr
Ireland travel articles
A wonderful park to hike in, Connemara shows off the rugged Irish countryside at its best.
These cliffs are, at the highest point, a shear drop down 700ft (214m) to the Atlantic Ocean. The view from the top is spectacular.
Ireland is as famous for castles as it is for Guinness. Dotted everywhere on the Emerald Isle, the castles connect modern day tourists with the dramatic history of Ireland.
Getting there and around
Getting there
Main entry points
Airports
Land crossings
Bus
Cars and motorcycles
Trains
By sea
Immigration and customs clearance
Prepare to be fingerprinted
Customs limits for goods
Getting around
By Plane
By Train
By Bus
By Car
Towns and cities in Ireland