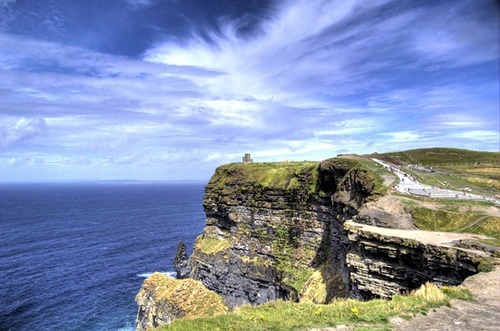 "See! The Cliffs of Insanity!" so says Vizzini in the movie The Princess Bride. He was actually referring to the Aillte an Mhothair, Cliffs of Moher in County Clare, Ireland. If you haven't seen the movie, rent it, everyone should see it. Everyone should see the Cliffs of Moher too. Once you're done drinking in Dublin, and shopping for claddaghs, take a trip southwest to County Clare near Doolin on a bus or in a car and see the Cliffs of Moher.
These cliffs are, at the highest point, a shear drop down 700ft (214m) to the Atlantic Ocean. The view from the top is spectacular. To get the full experience the best way to see these cliffs, if you have the time and ability, is to stay in one of the B&Bs or the Hostel in Doolin, start in the center of the town and walk southwest all the way to the cliffs, following the signs for about 5 miles (8km). Don't hike alone, wear warm clothes, sturdy hiking boots and rainproof items, this is Ireland after all.
At the top of the cliffs, opened in 2007, is the Cliffs of Moher Visitor facility. It has all of the factoids, and an IMAX movie about the cliffs. If you want to go to the Atlantic Edge Experience it is about 5 Euro, and it is 8 Euro to park a car in the area, but to experience the cliffs it is completely free and completely worth it.
Advertisements:



Photo by slinky2000 on flickr
You should follow me on twitter here.