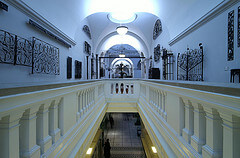 London is one of the most beautiful and well known cities in the world, and many tourists travel there every year. There are many, many attractions that can be visited in the city and one of the most popular of these is the Victoria and Albert Museum. The museum was founded in 1852, with the worthwhile mission of making art and history freely available to everyone, to inspire a future generation of artists and to educate those that visited. It has now been doing this for over 150 years.
Advertisements:



The museum actually comprises two locations, the main building being located in South Kensington and the Museum of Childhood being located in Bethnal Green. The main museum is a wonderful place to visit and houses one of the greatest collections of art and design in the world. There are many permanent exhibitions to view and program of changing exhibitions are also displayed regularly. These exhibits cover many areas of art and design, from painting and sculpture to textiles and jewelry. Most are stunning to view and bring the history of the subject to life.
For the child in us all, the Museum of Childhood houses one of largest collection of childhood related articles in the world. The exhibits cover many areas of children's lives including toys, games, clothes and furniture. It shows the development of these through the ages and most children will enjoy visiting, while most adults will recognize memories from their own childhood.
Both of the museums locations are free to enter and together they cover a period of over 3,000 years, bringing history vividly to life. For those planning to spend the day at the museum, there are also a couple of cafes with food and drink available to make your stay more enjoyable. If you are visiting London, make sure to try and visit the Victoria and Albert Museum for an interesting and educational day out.
Photo credit: nick.garrod on flickr
You should follow me on twitter here.