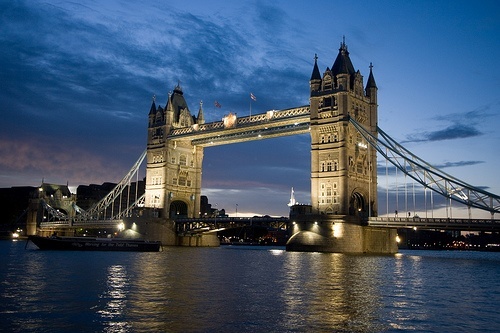 The Tower Bridge in London, England, not to be confused with the Tower of London, is probably one of the most famous bridges in the world. It is in fact located near the Tower of London, which is where it gets its name from. It is also not the same as the London Bridge, which is a ways down the Thames river.
So how do you get there? There is the Underground, always fun, where you would exit at the Tower Hill stop. Or there is a nice walk all the way along the Thames, which is longer than the little map makes it seem, trust me. The nicest way I found was on one of those double-decker tour buses, yes it is cliche, but it was a nice ride, with a lively tour guide and most give you the option of getting off and on throughout the day. Unfortunately these are being phased out, so ride them while you can.
The Tower Bridge is best visited in combination with the Tower of London because of their vicinity to each other. The height of Tower Bridge gives visitors beautiful, expansive views of London and the Thames River. The Victorian structure houses temporary exhibitions, and holds a controversial history which spans all the way back to 1884.
Advertisements:



The Tower Bridge is still a working bridge, cars and pedestrians cross it daily, and boats go under it. If you are lucky enough to be in sight of the bridge when a large boat comes, you will see the magnificent sight of the bridge parting and lifting up to make way for that ship to pass. Luck however doesn't have to be counted on since the official site tells when a ship will be coming for the bridge to open.
Now, because of the great restoration which will be happening in London for the 2012 Summer Olympics, the bridge is also undergoing a restoration of its Cornish granite and Portland stone. So be prepared for possible scaffolding blocked views until then. At £7.00 for an adult admission to the Tower Bridge Experience, it is a nice trip through an iconic piece of London history. You can, of course, cross the river via Tower Bridge for free.
Photo credit: dirac3000 on flickr
You should follow me on twitter here.