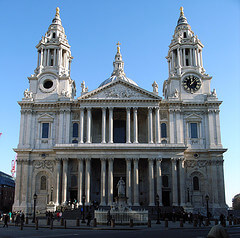 St Paul's Cathedral in London, England is the place to visit if you are interested in classical architecture or in the history of the British Monarchy. This is where the Royal Family partakes in their religious services, as well as the place that is used for the crowning of kings and queens, their marriages, christenings, and funerals.
Today's St Paul's Cathedral is not actually the original structure, having been built and rebuilt throughout the centuries a number of times. The current edifice dates to its final official completion in 1708, on the 76th birthday of its designer Sir Christopher Wren. The current structure was designed and built to replace the fourth cathedral of St Paul's that was destroyed during the Great Fire of London in 1666.
Involved in the creation of St. Paul's were many of the prominent artists and craftsmen in England during the days of its design and construction. Sir James Thornhill painted the eight paintings on the dome that depict the life of St. Paul. German born Bernard Smith was the master organ designer and builder that made the organ. Grinling Gibbons, a Dutch master wood carver responsible for the woodwork, especially noted for the choir stalls. Jean Tijou, a French ironmonger who did the wrought iron workings.
Entering the structure you will see the view at the entry, well known to most Britons, of the double towers. From there you see behind them the golden dome of the cathedral, inspired by St Peter's Basilica in Rome. The inside, as with any of the many impressive cathedrals that dot both the British Isles and most of Europe, is equally impressive and replete with history. Inside one gets a sense of the depth of importance placed on the structure by those who designed and built it. Lacking from the structure are the flying buttresses commonly associated with Gothic Cathedrals (which St Paul's is not), St Paul's was built with extra thick walls to avoid this necessity.
Just coming to the outside of this Cathedral will bring to mind one's memories of the grand wedding of Prince Charles and Lady Diana, or if you weren't around when that happened you will immediately get a sense of royal solemnity and fortitude. Once inside you can feel the weight of history draw you in as you view the many statues, plaques, and other monuments to a variety of great historical English figures.
Advertisements:



As the official website of St Paul's states: "St Paul's is not only an iconic part of the London skyline but also a symbol of the hope, resilience and strength of the city and nation it serves. Above all, St Paul's Cathedral is a lasting monument to the glory of God." This is a piece of London history that you won't want to miss.
Photo credit: stevecadman on flickr
You should follow me on twitter here.