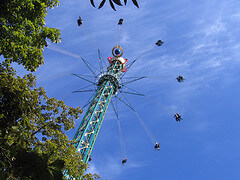 Somehow it seems quite fitting that the delightful Tivoli Gardens is located in Copenhagen, Denmark, a city known for its magnificent palaces, beautiful parks and one enchanted mermaid. From it's inception by Georg Carstensen in 1843 Tivoli has evolved to become one of the most visited parks in Europe. And what's not to enjoy?
Although only nestled amongst 15 acres it uses every inch of space effectively to create the illusion of a small wonderland unto itself. In fact a visitor was so impressed with the layout he returned home to California and began working on his own fantasy land. The man? Walt Disney.
First and foremost Tivoli is known for its varied and eclectic range of rides designed to captivate and tantalize the imagination no matter the age. The heart stopping Golden Tower plunges rapidly to earth while the Demon and the Rutsjebanen are roller coaster twists and loops three times to send the pulses soaring. Not a fan of excitement? Fear not, tamer rides are also available. Not contented to rest on its reputation, newer and more cutting edge rides are always being developed.
Advertisements:



Much like a county fair, the eateries in Tivoli range from the obligatory burgers and fries, gooey candy, healthy fruits, and enough sugar sweets to put one in a diabetic coma. Yet surprisingly it also yields a gastronamic gem. The Groften Restaurant is a world renowned eatery that has been pleasing the palate of locals and visitors with succulent fare such as Danish stew and seafood. Reservations are a definite must.
When the sun goes down Tivoli comes alive with the sound of music and fun. Much like the Medeival times pantomime is still presented in its original form. The concert hall offers the traditional from the melodious tones of the Symphony Orchestra, the youth choir and the ballet. In the mood for some alternative choices? Perhaps you will be lucky to be in attendance when the soulful vibes of the Alvin Ailey Dance Theatre shimmer on stage, or be mesmerized by the dulcet tones of Sting, Smashing Pumpkins or The Beach Boys.
And finally as the day winds down sit back with some steamy cappuccino and marvel at the spectacle of the illuminated lights of the gardens. Over one hundred and fifty thousand lights are retrofitted to perfection to cast a magical reflection in the fountains and lakes. One can imagine it can be seen from the heavens which is only appropriate as Tivoli was designed for an out of this world experience.
You should follow me on twitter here.