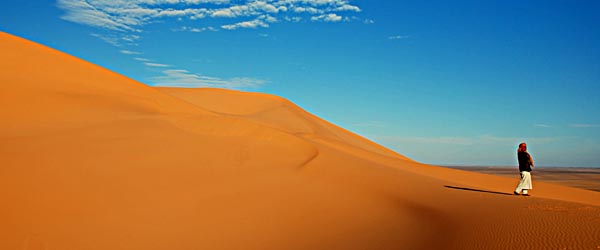 Situated in North Africa, Libya's northern coast meets the Mediterranean Sea, and there are plenty of beautiful beaches with blue seas and golden sands. The island of Farwah is well worth visiting if you want to relax in a peaceful paradise unspoilt by tourism. It is however, mainly the Sahara Desert which makes this country so popular with tourists. This area covers 90% of the country.
So what is so special about this area? For a start, the desert has a peaceful natural beauty. Also, there are also many landmarks of historic importance. Art is an important feature as the area is rich in folklore art and pre-historic art. There are also settlements of historic importance. Should you prefer to be independent of a tour guide, there are trials and paths through the desert which are clearly marked out, so that you do not get lost and it is possible to hire a vehicle. The more adventurous can go on a camel trip. In all, whatever your age and background you will be certain to find something to interest you.
When visiting the country a trip to the capital city is well worth taking. Tripoli is in the north of Libya and is the country's main port. It is famous for its medieval architecture and a huge fortress. The Romans had a strong influence and you can visit the most complete Roman city in the world, Leptis Magna, which is only a short distance from the capital. The Hadrianic Baths are an important feature and one not to be missed, as are the Temples of Hercules and Roma. The Basilica is also famous. Some amazing sculptures and statues are housed in Leptis Magna, so you need to allow time to dwell in this ancient city.
Current update after the Libyan revolution
After the uprising against Gadaffi, travel to Libya has become quite challenging and very dangerous. For most of 2011, the nascent travel industry in Libya has been hit hard, but that doesn't mean the amazing sights in Libya have gone away. Leptis Magna, the great beaches, and so on, are all still there.
With the recent news that Gadaffi is overthrown and the country is on the path to rebuilding after its civil war, it's now time for us as travelers to begin considering supporting the Libyan's with our money and cultural exchange. In other words, it's time to travel to Libya, see the sights, and engage with the warm and welcoming Libyans. And the sooner the better, before the hotels, restaurants, and tour companies have to close due to lack of money.
Photo by Lontananze d'azzurro on flickr
Libya travel articles
The Leptis Magna Ruins are only 60 miles from Tripoli and are a fascinating place to visit.
Facts and map
The full name of Libya is 'Libyan Arab Jamahiriya'.
Towns and cities in Libya