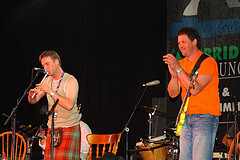 Folk music is not rigidly defined, but a commonly accepted definition is that it is the music of the people, much of it not attributable to any one artist. So it is that folk music in all its forms is celebrated at the Cambridge Folk Festival, an annual gathering of musicians and followers alike, it is one of the largest folk music venues in the world.
The festival started humbly enough in 1964 when the Cambridge city council decided they needed a festival of some sort to attract people to the area. From the every beginning the festival was a success and it has continued to grow year after year.
Today the festival is held in summer on a permanent site that offers both convenience and safety for festival goers. Most participants camp at the festival site in one of four designated areas. This is highly recommended as travel to and from the area is slow due to the number of participants. The concerts are held on a number of stages, many with covered seating in case of rain.
With regard to the acts performing, you can expect to see the best folk singers from around the world. It is also common for artists not on the schedule, but who came just to listen, get on stage and do an impromptu song or two. If you are interested in attending be sure to get your tickets well in advance as the festival sells out every year. The festival is also known for being very accessible for persons with disabilities.
Advertisements:



Photo credit: Bob & Jane @ flickr
You should follow me on twitter here.