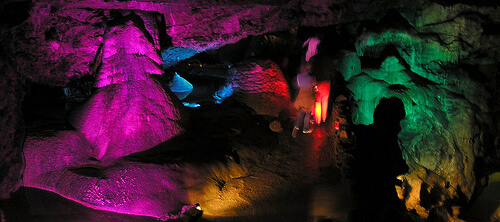 If you visit Somerset and are looking for a fantastic day out then look no further than Wookey Hole. It will provide you with a day of mystery and fun as you enter the world famous caves and find yourself meeting the Wookey Hole Witch. However there is more than just the caves to explore and Wookey Hole offers many attractions for an interesting and fun day.
Wookey Hole is located around two miles from the city of Wells and is steeped in history. The most famous part of the attraction is the spectacular caves which have a long history of habitation, somewhere in the region of an amazing 50,000 years. A guided tour of the caves is a must and your guide will provide details of this history, including the famous Wookey Hole Witch whose legend grew throughout the dark ages and lives to this day. It is said her spirit remains and watches over the animals of the cave. Recent auditions were held to find a new Wookey Hole Witch and you can meet her in the caves if you dare.
However the caves are only part of the attractions at Wookey Hole and you will also find many other fun things to do. These include Ice Age Valley, where you will find yourself back in prehistoric time surrounded by life size dinosaurs, the Wookey Hole Circus Show and the Pirate Adventure Golf Course. There is more than enough at Wookey Hole to keep you entertained for the day and it is a great place for adults and children alike to learn about the history of the place and also have some fun.
Advertisements:



Photo credit: Dave ® on flickr
You should follow me on twitter here.