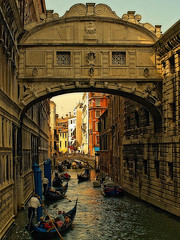 "I stood in Venice on the Bridge of Sighs,
A palace and a prison on each hand;
I saw from out the wave her structures rise
As from the stroke of the enchanter's wand:
A thousand years their cloudy wings expand
Around me, and a dying Glory smiles
O'er the far times, when many a subject land
Look'd to the winged Lion's marble piles,
Where Venice sat in state, throned on her hundred isles!"
- Lord Byron: Childe Harold's Pilgrimage, Canto IV. Stanza 1
Advertisements:



The Bridge of Sighs, in Venice, Italy , so named by Lord Byron who believed Venice so lovely that convicts, upon their last view of the city, on the bridge, would sigh with awe and regret. It doesn't matter that there were probably no inquisition convicts on that bridge sighing, the name, first penned in the 19th century, sticks. The Bridge of Sighs was designed by Antoni Contino and actually built in 1602.
Now the Ponte dei Sospiri as it is called in Italian is traveled more by the waters of the Rio di Palazzo than by over the actual bridge. Travel over the bridge is usually limited to a secret tour of the Doge's Palace or to those lucky few who visit Venice in the off-season. The tour fills up quickly in the spring and summer, so if you want to follow Casanova's fabled footsteps and cross the bridge, book early.
Following the example of lovers past, and riding a gondola through the Rio di Palazzo is the best way to see the bridge. As sunset turns the white limestone bridge into a sparkling wonder, many lovers are found embracing underneath its arches. The legend says that all lovers who kiss beneath the bridge at sunset are assured of eternal love. So grab your lover, or maybe a stranger for those traveling solo, and see what can come of a trip under the Ponte dei Sospiri.
Photo credit: gerry balding
You should follow me on twitter here.