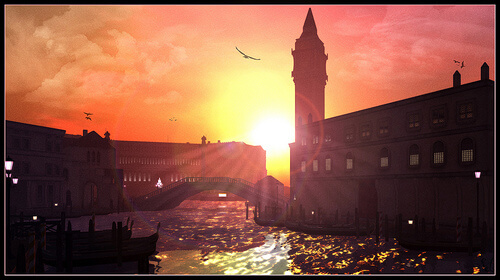 Almost 2 million travel from Treviso to Venice each year after taking a flight with Ryanair, Germanwings, Transavia, or Wizz Air. Here's how you get from Treviso if your final destination is Venice.
Bus travel from Treviso to Venice
For travelers to Venice arriving at Treviso airport, there are two bus services connecting to Mestre and Venice operated by ATVO. These services are scheduled to depart and arrive at Treviso airport for flights operated by Ryanair and Transavia. About Euro 5 each way or Euro 9 return. About 1 hour 10 minutes travel time.
Advertisements:



ACTT, the local public bus company, operates a local service connecting with the Treviso city center. This arrives at the Treviso train station. Euro 1 in the terminal, Euro 2 if you buy your ticket from the driver. This bus service runs every 20 minutes during the day and takes 20 minutes.
SITA runs a bus service between Treviso and Padova for those traveling elsewhere in the Veneto. This service departs every half hour.
Train travel from Venice to Treviso
If you take the bus from the airport to the Treviso train station, you can connect from here to Venice and many other locations in Veneto and the rest of Italy. A train ticket to Venice is cheap, circa Euro 2, and the ride takes about 30 minutes including a stop in Mestre. Trains are very frequent during the day.
The Venice train station, Stazione Ferroviaria Santa Lucia, is right next to the historic center of Venice and there's a Grand Canal vaporetto stop nearby.
Other travel options between Venice and Treviso
As it's only 20 kilometers (12 miles) between Treviso and Venice, cycling is a definite option. Although if you do, be advised that getting around Venice on a bike is nearly impossible, so your best option is choosing a bike touring friendly hotel or hostel in Mestre instead.
Unless you're planning on seeing areas of the Veneto outside of Venice, don't rent a car. In Venice, you'll have to park at the massive (and expensive, for non-residents) Tronchetto parking garage. If you're doing this, just take the causeway to Venice and follow the signs. Parking costs Euro 20 per day or so. During high season, park in Mestre instead, as the causeway will back up for miles.
Photo by Seb Ulysses on flickr
You should follow me on twitter here.