Great guides to plan a trip to Venice, Italy. I went to "La Serenissima" for my wife's birthday this year. Here's how to get the ideas of what to do while in Venice.
Dead tree guidebooks
The Rough Guide books have always served me really well, and for this trip to Venice they had the most up-to-date editions. I like paperback guidebooks, it's much more difficult to read a laptop while you're out and about. These are the ones I brought: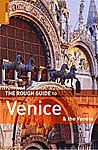 Rough guide to Venice and the Veneto. This is currently the definite guide on Venice and the surrounding Veneto region. From the water-lapped palaces along the Canal Grande to the buzzing Rialto market, the full-colour section introduces all of the regions highlights. With a lot of cultural background you'll find detailed accounts of all Venice's monuments and museums, from San Marco to the remote islands and useful information about Verona, Padua, Vicenza, Treviso, and a host of other Veneto towns and sights. Mind that as always, prices are likely to be outdated, places have closed or opened, and often Venetian sights are under wraps due to restoration! Check prices for The Rough Guide to Venice and the Veneto
on Amazon.com.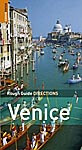 The Rough Guides' Venice Directions
. Perfect for a weekend break, Directions gives a high level rundown of the most important sights, activities, restaurants, and bars of this city of water and stone. We didn't use this much, as the selections are more high end than our budget allowed during this trip. However, if you're going for 2 or 3 days, this and a map is all you'll ever need. Amazon has a copy of The Rough Guides' Venice Directions with your name on it.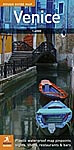 The Rough Guide to Venice Map
. Not a guide but rather a very useful rip and waterproof map of Venice. Detailing the city streets quite well, I found this vital for late-night wanderings around the "City of Bridges". You can get your The Rough Guide to Venice Map from Amazon.
Venice visitor resources online
A month in Venice is Richard Callaby's blog about living in Venice. Go take a look, he's got quite a few great recommendations.
Time Out's online Venice visitors' guide - Time Out's free guide is much better than you'd expect for the brilliant price of $0. If you're doing like many others and spending just a day in Venice, this could be what you're looking for. Also has good links to the major sights' websites, nightlife listings, and tips on getting the most out of your visit whatever time of year you're going.
Advertisements:



World66.com Venice travel guide - Also reasonably in-depth, it's also slightly more irreverent than the big commercial guides' tips. "The famous willy wonka-villages of Venice post a threat to the historical buildings, which are slowly sinking into the marshy ground" World 66 says about how Venice is under continuous threat from its own existence as a stony city built on a mud flat! Good food listings to boot.
Venice travel information from LonelyPlanet.com - The online info from Lonely Planet is as always brief. However, it's accurate and the Thorn Tree forums are a great resource for any traveler. Got a question? Here's the place to get it answered by another recent Venice visitor.
You should follow me on twitter here.