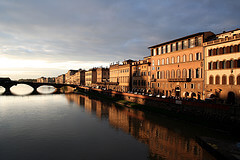 Huge numbers of travelers need to move between Pisa and Florence on their vacation. Here are the transport options if you need to get the 60 miles from Pisa to Florence or Florence to Pisa during your Italy vacation.
Trains between Florence and Pisa
Trains that go from Florence Santa Maria Novella (also known as Fireze SMN) to Campiglia Marittima are the fastest transport option between Pisa and Florence. There are 6 trains daily between Pisa and Florence. The trip should take around 50 minutes and the tickets are cheap and can be purchased on the day at the train station for about Euro 6-7 each way. Don't book in advance, that ends up more expensive.
Trains from Pisa airport leave from right outside the airport terminal and also stop at Pisa Centrale. Note that late night services from Florence to Pisa are lacking, and you may be better off taking a bus. The Pisa-Florence line also connects Pontedera and Empoli. From Pisa airport, there are 25 trains per day, and by connecting via the central train station in Pisa, you can get to many other cities in Italy.
The people at the train station are helpful and the boards are perfectly readable; don't forget to punch your train ticket in the little box at the side of the platform to validate it.
See the Trenitalia website for hours and prices, or the Pisa airport timetable page.
Buses between Pisa and Florence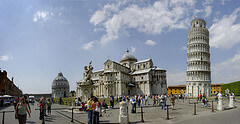 Terravision operates a service between Pisa airport (outside arrivals) and the center of Florence. The Florence stop is at the Santa Maria Novella train station, on Via Alamanni, right across from Bar Deanna and Florence Terracafé. It also stops at the Florence America Vespucci airport at the NCC bus stop.
Note that the Florence airport is very often referred to as Florence Peretola Airport as well as America Vespucci.
Journey time is 70 minustes between Pisa Galileo Galilei airport and the Florence train station. Another 15 minutes journey time between Florence Santa Maria Novella train station and Florence Vespucci airport.
Current prices (August 2009) are Euro 10 for adult singles, Euro 16 for returns. Departures are shortly after easyJet and Ryanair arrivals at Pisa or Florence airports. Buy tickets on arrival or on the Terravision website.
Advertisements:



SITA Buses will take you to many destinations in Tuscany. The price is about the same as train travel, except that, in some cases the buses are more convenient, especially if you don't have a lot of luggage and want to get to the center of town. Also, the bus schedule is more frequent, especially at night, between Florence and Pisa. Check the schedule on the SITA website.
Private transfers
You can of course take a taxi or private van shuttle between Florence and Pisa, but this option is far more expensive than either train or bus. However, if you're traveling with a lot of baggage, this may be the most convenient option, getting you right up to your hotel without any carrying. It will take up to 1.5 hours and will cost from about Euro 40 for a pre-booked van or up to Euro 100 for a taxi.
You should follow me on twitter here.