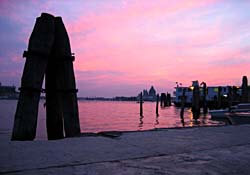 Venice is beautiful, stunning, and astoundingly crowded. If you rather avoid crowding yourself with snap-happy Japanese tourists, get up at the crack of dawn and you'll see the city on your own.
Advertisements:



If you've been wanting to see Italy's Venice on your own terms, the Piazza San Marco (St. Mark's Square) is empty before 7 in the morning, and you can walk along the canals, view the still waters, and relax in peace. Then, once the city begins to wake up, you can grab a cappuccino at a streetside cafè and watch people go about their business while having breakfast.
You should follow me on twitter here.