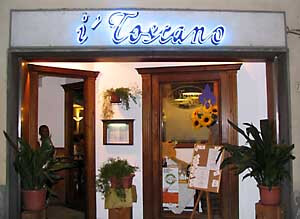 We found this Tuscan restaurant in Florence on a local's recommendation for our anniversary dinner. It's a great choice for classical Italian food from Tuscany.
Tuscan food in Florence, Italy
Tuscan food is very hearty, with stews and grilled meats quite common. As we visited in late January, this was welcome, especially as we would have a late trip back to Pisa that same evening.
Lauri ordered in a steak with vegetables, which came out tender and full of flavor. I had a lamb stew with lots of root vegetables. This was all served up with great Tuscan farm bread and plenty of Chianti from Tuscany. I've found that it usually pays off to order wine that originates from the same region as the food - the flavors tend to complement each other really well.
i'Toscano is known for some really big steaks, as one other guest said, "[the waiter] came to show me the steak and the thing was HUGE... but he was like 'No, this is small...only 1.3 kg' (46 ounces!)."
The menu covers all the regional specialties, and some general Italian fare. From it, I'd pick the Pecorino cheese starter and then continue with the lamb stew I did have. The table next to us ordered some bruschetta, which looked great with a comforting aroma wafting over to us.
To finish, we had some limoncello and espresso with our dessert. As you come in, i'Toscano has a great big 4 station espresso machine and they know how to use it well - the coffee came out just perfect. Missing from the dessert menu was my favorite Tiramisu, so we had some nice and creamy Panna Cotta with our espressos. I'm sure we gained a couple of pounds each from it!
The food at i'Toscano is great, so do stop by when you visit Florence.
Service and venue at i'Toscano
The name i'Toscano comes from both the food and a type of cigar that's traditional to this area. Luckily, the restaurant is smoke free together with the rest of Italy. But you can see the historical references to the tobacco farm in the decor. The interior of the restaurant is simple and rustic, and ultimately welcoming.
This is a traditional Florentine trattoria, meaning a restaurant in-between the cheap and cheerful and a white table linen affair. However, it's not a cheap place as the food is great. The service is typical of Italy: Competent, chatty, and friendly. You're not coddled, but you won't have to worry about being interrupted while you're whispering romantic nothings over the table either.
i'Toscano contact details
i'Toscano
Via Guelfa, 70r
Florence
Advertisements:



Phone: +39 (0) 55 21 54 75
You should follow me on twitter here.