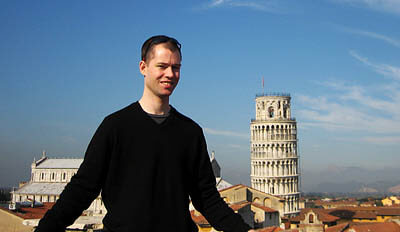 For our first wedding anniversary, Lauri and I visited Pisa with a day trip to Florence. Here's what's good to see and where to stay in Pisa and Florence, Italy.
The sights in Pisa and Florence
Pisa is definitely best known for its Leaning Tower in Piazza dei Miracoli. The Leaning Tower of Pisa is the most remarkable bell tower in Europe. The tower's construction began in 1173 and continued after two long interruptions for two centuries. Originally the tower was designed to be vertical but it tilted because of the softness of the soil. It was closed for safety reasons (you wouldn't want it to come crashing down on you) in 1990, but re-opened to limited numbers of visitors in 2001. You have to book tickets in advance most times, and you can do that at www.opapisa.it.
Also located in Piazza dei Miracoli, the Baptistery of St. John is the largest in Italy. It was constructed in 1152 by Diotisalvi and different architectural styles where added during the next two centuries. Built in the Romanesque style and with Gothic elements, it contains a beautiful baptismal font and pulpit by Nicola Pisano. The Baptistry entrance fee is included with the other attractions on the Piazza.
Between the Leaning Tower and the Baptistery is the Catedral di San Zeno. This cathedral is one of the finest of the Romanesque period and is quite unique. Built to replace the previous cathedral, construction began during the 12th century in two different phases. Inside thre are monolithic columns made of granite, a silver altar and figures by Brunelleschi in addition to many classical paintings and colorful mosaics. It's a gorgeous cathedral made out of white marble. The Catedral doors are remarkable, cast in bronze and highly detailed with natural scenes.
Next to the Catedral and Baptistery, you can wander through the Camposanto graveyard. Very picturesque, it dates from the 13th century. Heavily damaged during the Second World War, restorations have been ongoing since 1990.
Visit Italyguides.it for some great panoramic pictures of Pisa.
Florence is by far the larger of these two cities, and while Pisa can be covered easily during a day and an evening, to do justice to Florence you'd need 3 or 4 days straight. However, if you're short on time, these are the attractions you have to see:
The Campanile de Giotto, or Giotto's Bell Tower, and the accompanying Cathedral of Santa Maria de Fiore. Both completed in the 13th and 14th centuries, they're located near the train station.
The Uffizi, or Gallerie del Uffizi in Italian, is one of the world's great museums, and the single best introduction to Renaissance painting, with works by Giotto, Masaccio, Paolo Uccello, Sandro Botticelli, Leonardo da Vinci, Perugino, Michelangelo, Raphael Sanzio, Titian, Caravaggio, and the list goes on. The museum is deceptively small. What looks like a small stretch of gallery space can easily gobble up half a day, many rooms suffer the fate of containing nothing but masterpieces.
Finally, there is the Galleria dell'Accademia, or Academy Gallery, is where you can find Michelangelo's David and many other fantastic examples of Italian art. It was founded in 1561 and was the first academy of drawing in Europe.
Getting there and moving around
Arriving to this part of Italy is very easy. Ryanair and EasyJet, and many others, operate frequent flights into Pisa, and from here you can take a Terravision bus straight to Florence if you wish. If you're staying in Pisa, a taxi will set you back about 12 Euros, or you can take the city bus right outside the terminal building.
In Pisa, you'll end up walking everywhere. The city center is very small and you can cross it in about 25 minutes at a stroll. In Florence, the main attractions are all within walking distance of the train station (which is also where the Terravision bus will drop you off). However, as it's a larger city, you may need to take some buses or get friendly with a cab now and then.
If you're planning a day trip to either city, be warned that late-night connections are poor. We got stuck on a bus for 2.5 hours getting back from Florence - there are no trains from about 9 pm until nearly 1 in the morning. During the day, the train connections are frequent with about 4 services per hour.
Advertisements:



More information about travel between Pisa and Florence here.
Somewhere to stay in Florence or Pisa
While we decided to stay in Pisa for the stay, as we only had three nights, we had a long and very tempting look at some Florence apartment rentals. For a longer stay, it would definitely be our choice, as we'd be able to cook our own food and get more space than with a standard hotel room.
As it was, we stayed in the Grand Hotel Duomo on Via Santa Maria in Pisa. Mostly because we got a cheap rate on the room, but also because its very central, just a two minute walk to the Leaning Tower of Pisa.
What we think
This was a fantastic long weekend break. Both of the cities are good for a winter holiday, with pleasant weather during the day even in late January, thought night temperatures drop harshly.
One definitely highlight was the food, Tuscany is well known for its cuisine and it is obvious why. Lauri and I both agreed that the Italian food served in this area was some of the best we've ever experienced. And by now, Italian is our favorite cuisine! We can especially recommend i'Toscano in Florence, where we had a wonderful anniversary dinner.
There is some great shopping to be had in both Pisa and Florence as well. The area is known for leather goods and you'll find some nice pieces pretty much everywhere. And of course, because both cities are so popular with visitors, there are plenty of unique boutiques and branded stores around.
Your turn, what's your experience?
What's your experience with Florence, Pisa, or the nearby towns? Please leave a comment below and let us know!
You should follow me on twitter here.