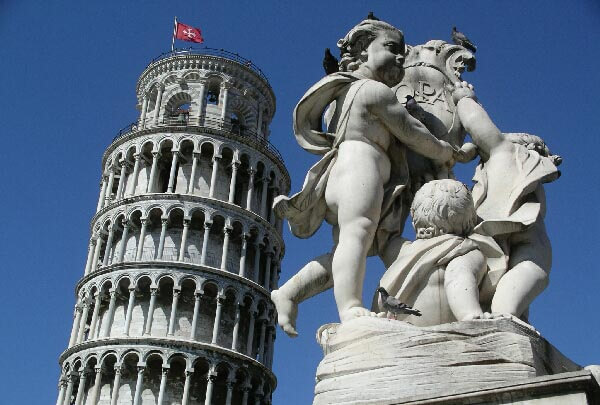 The town of Pisa nestles into a quiet valley in the northwest of Italy, and for the most part follows the patterns of towns in that area of the world – cobbled streets, outside dining, twisting alleyways and hidden piazzas. What turns it from a sleepy backwater town into a world renowned tourist destination is the Field of Miracles, containing the Duomo, the Baptistery and the Leaning Tower.
Most visitors to Pisa will rush straight to the Tower, having been treated with fantastic glimpses of it from either train or by air, but most don't appreciate its surroundings or its significance. The tower was built as a bell tower to go alongside the cathedral, though unlike other campanile in Italy, it has walkways around the top that were built to allow visitors to the city to see what was going on below. This would have been a great boon during the August festivals, when travellers from all over Europe would come and trade and celebrate Ferragosto, which still takes place today, and is well worth going to see if you're there at the right time.
Advertisements:



For many years the Tower was closed to visitors as it was deemed to be a safety risk, but in the last 5 years it has been possible to book tours, and there is nothing quite like standing up at the top, especially at night, looking over the Field of Miracles and being able to look at all the pictures and postcards and say "I was there!".
Leaning Tower of Pisa location and hours
Leaning Tower of Pisa
Piazza dei Miracole
Pisa
Italy
From November to February: 10:00-17:00 (09:00-18:00 from Dec 25-Jan 1)
March: 09:00-18:00 (until the 3rd), 09:00-19:00 (until the 20th), 08:30-20:30 (starting the 21st)
From April to September: 08:30-20:30 (until Jun 13 and from Sep 5-30), 08:30-23:00 (from Jun 17)
October: 09:00-19:00
The last entry to the Tower of Pisa is a half-hour before closing time.
Photo by donvanone on flickr
You should follow me on twitter here.